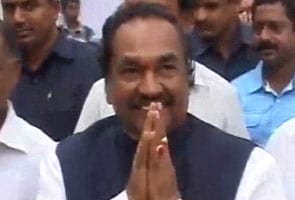 New Delhi:
In election-bound Karnataka, Deputy Chief Minister KS Eshwarappa has now landed in a spot for making an allegedly provocative speech. The Election Commission has issued a notice to the BJP leader on the matter and has asked him to file his reply by 5 pm tomorrow. The poll panel has also issued a notice to Maharashtra Home Minister RR Patil, who was yesterday booked for a speech he made in Belgaum.
Mr Eshwarappa, who is a BJP leader, had reportedly said in a speech in Shimoga earlier this week that "young Muslim men are getting involved with Hindu women as part of a Love Jihad." A local Congress leader Syed Wahid has complained and the police have registered a case against the senior minister under laws that deal with promoting enmity between different groups and religions.
On Thursday, word had reached Mumbai that a case had been registered against RR Patil of the Nationalist Congress Party for saying that a 2005 incident in Karnataka's border town of Belgaum, when the face of a Marathi-speaking Mayor Vijay More was blackened by activists, was, "not an insult to one man but to 12 crore Marathis".
Mr Patil also said, "We (Marathis) are generally patient people. We don't get up every morning and draw our swords. But when our self-respect is hurt, our swords don't get sheathed unless we get our revenge." Karnataka and Maharashtra have a longstanding dispute on territorial rights over about 800 villages on the border.
The Belgaum police have charged Mr Patil, who was attending a private function, with promoting enmity between different groups and religions and with violating the election code of conduct. The Election Commission had asked for a report and a recording of the speech.
Karnataka will vote on May 5 and the BJP is fighting with its back to the wall to retain the only southern state it rules. The Congress, which has not been in power in the state since 2006, sees a very good chance to displace the ruling party, which is battling deep internal fissures. The NCP is the Congress' partner both in Maharashtra and at the Centre.