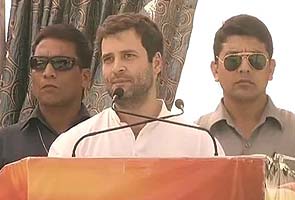 Churu, Rajasthan:
Rahul Gandhi today hit out at the BJP for what he called its divisive politics, using emotional memories of his grandmother, former prime minister Indira Gandhi and father, Rajiv Gandhi, to reach out to a large crowd in election-bound Rajasthan.
"Hatred killed my grandmother, my father, maybe it'll kill me. I don't care," the Congress vice-president said at a rally in Churu, condemning communal politics and accusing the BJP, his party's main political rival of "spreading hate".
"They go to Muzaffarnagar, Gujarat or Kashmir and spread hatred. We have to go in and battle the fire," Mr Gandhi said.
He recounted Indira Gandhi's assassination in 1984 by her Sikh bodyguards.
"My security officer told me my grandmother had been shot. My legs were trembling. Priyanka and I were taken home and on the road there was grandmother's blood and in a room there was the blood on my friends," he said.
The Congress leader, who was 14 then, said he was sent home from school when the news came.
His grandmother's assassins, Beant Singh and Satwant Singh, Mr Gandhi said, had played badminton with him.
"I had two friends Beant Singh and Satwant Singh, they taught me how to play badminton. They were my friends. In 1984 I was in the garden I met Beant Singh and he asked me where does your grandmother sleep, is her security adequate? If somebody throws a grenade at you, he told me how to lie down. At that time I did not understand what he meant. Years later I understood that Satwant Singh and Beant Singh were going to throw a grenade at her during Diwali."
The 43-year-old also shared memories of Indira Gandhi often coming to his rescue against strict parents. "My grandmother, Indira Gandhi was my saviour... for example, I hated eating spinach. She would start reading the newspaper and hiding behind the newspaper I would give the spinach a miss."