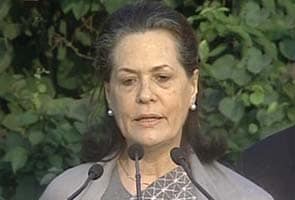 Ahmedabad:
With less than a week to go before the Assembly elections in Gujarat, top leaders of the BJP and Congress are out in the fields wooing voters.
Congress president Sonia Gandhi is on her third round of campaign in the state today. She will address two rallies - in Sidhpur, north Gujarat and near Dakor in Kheda district. During her whirlwind tour of the state last week, Mrs Gandhi had sharpened her attack on Chief Minister Narendra Modi who is seeking a third consecutive term in office. Rahul Gandhi is expected to campaign at Sanand, Jamnagar and Amreli in Gujarat this week.
Chief Minister Narendra Modi will address rallies at 53 places simultaneously using 3-D holographic projection technology. Apart from that, he will also address six election rallies today.
On Sunday, the Prime Minister campaigned in Gujarat. Addressing a rally in Vansada, Dr Singh appealed to the voters of Gujarat to get rid of politicians indulging in divisive politics.
"We don't indulge in politics of dividing the society like the opposition parties... Such politics cannot benefit any political party for a longer period. Time has come that you people should rid Gujarat of such politics and don't let such people come to power who try to get votes by dividing our society and country," he said.
The Prime Minister said the public health sector was not in a good state in Gujarat and new employment opportunities for the youth were also not being generated.
"Development in Gujarat is only for a few people. A big portion of the population here has remained untouched by this economic development. Because of the policies of the state government, there is an imbalance in the society," he said.
Rebutting the Prime Minister's charges, Chief Minister Narendra Modi accused him of playing votebank politics.
"The Prime Minister, who visited Gujarat today, is playing votebank politics in the name of minority and majority (communities). It is sad that the Prime Minister of the country cannot rise above votebank politics," Mr Modi said, addressing a poll rally in Valsad in south Gujarat on Sunday.
"The Prime Minister is saying that minorities feel insecure in Gujarat. With a sad heart, I have to explain to him that Gujarat does not distinguish between minority and majority and the state government is working for the uplift of six crore people of the state," Mr Modi said.
"You (PM) get elected in Rajya Sabha from Assam. The entire country knows about the massacre that went on in your home state six months back. Districts after districts were engulfed in communal violence," he said.
However, in the last ten years there had been no communal violence in Gujarat, he claimed.
Giving an example of Shaheen Dhada, who was arrested in Maharashtra for her Facebook comments about Bal Thackeray and who later shifted to Gujarat with her family, Mr Modi said, "She prefers to stay in Gujarat over Maharashtra. You are trying to defame the state, but girls like Shaheen have proved you wrong."
Mr Modi also claimed that Dr. Singh was trying to disturb the atmosphere of peace, unity and brotherhood through votebank politics.
The first phase of elections will be held in Gujarat on December 13 followed by the second phase on December 17.
The results are scheduled to be declared on December 20.
(With PTI inputs)