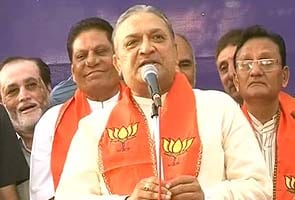 Ahmedabad:
Days before Gujarat votes in a new Assembly, a top Congress leader and former deputy chief minister Narhari Amin has walked over to the BJP. Narendra Modi welcomed him this morning, saying he brought with him "hundreds of supporters" and would "help me serve the people of Gujarat even better."
Mr Amin had quit the Congress earlier this week after the party denied him a ticket to contest the Assembly elections in keeping with its decision not to nominate those who have lost two elections in a row. Today, newly draped in a saffron scarf with the BJP's lotus on it, Mr Amin promised Mr Modi, "Congressmen have joined the BJP, Narendrabhai you will win a third time. And forget 2012, we will ensure a win in 2014 in Delhi."
Mr Amin, who enjoys much support in the powerful Patel community and has been a Congressman for 25 years, smiled widely as he waved and posed for photographs with BJP leaders including close Modi aide Amit Shah, who is an accused in the Shahabuddin fake encounter case and was allowed by court only recently to return to Gujarat after two years.
Many of Mr Amin's supporters had submitted their resignations to Gujarat Congress chief Arjun Modhwadia last week, among them, Ahmedabad Congress chief Pankaj Shah, 18 municipal councillors and 40 ward presidents submitted their resignations.
Gujarat votes in two phases on December 13 and 17. The results will be declared on December 20. Mr Modi is widely expected to win the state back for the BJP for a third straight term.