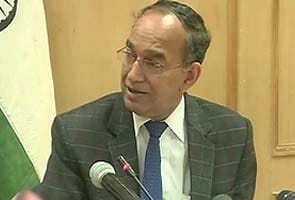 New Delhi:
Top election officials will visit poll-bound Karnataka for two days next week to review the poll preparedness and arrangements there, besides hearing grievances of political parties.
The full Election Commission, including Chief Election Commissioner V S Sampath and Election Commissioners H S Brahma and SNA Zaidi will visit Bangalore on April 8 and 9 for the review meeting.
While a team of officials of the Election Commission will reach Bangalore on April 7, the full Commission will reach there on April 8 and hold a meeting with representatives of all political parties for hearing their grievances or complaints.
The EC will hold a meeting of top election officials in the morning of April 9 and discuss their poll preparedness for conducting free and fair polls in the southern state.
The Commission will also discuss thread-bare steps to check the use of money power in elections besides checking paid news and other poll malpractices.
Karnataka will go to polls on May 5 to elect its 224-member Assembly and counting of votes will be held on May 8.
While 36 constituencies are reserved for SCs, 15 are reserved for STs in the state.
The poll process in Karnataka will start on April 10 with the issue of notification when candidates can start filing nominations. The last date for nominations is April 17 and after scrutiny the next day, the last date for withdrawal of candidatures is April 20. There are a total of 4.18 crore voters in Karnataka.