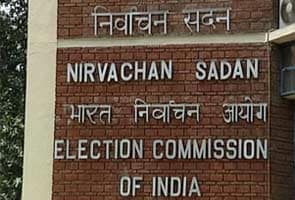 New Delhi:
Unhappy with the announcement of the direct cash transfer scheme by the government at a time the model poll code is in force, the Election Commission has sought a report from the Cabinet Secretary.
In the letter, the poll panel has conveyed its displeasure over the timing of the announcement and said it could have been avoided in view of the Gujarat elections later this month.
"We have asked the Cabinet Secretary to give us a factual report on the issue by Monday evening and if we do not get a reply we will proceed with action," a top official of the Election Commission said on Sunday.
The Cabinet Secretary will file a response today.
" We believe that the Congress neither directly nor indirectly violated the code of the Election Commission. The policy announcement was made way back in the budget speech and the budget was presented by then Finance Minister Pranab Mukherjee and is just implementation of that announcement. But all these details and the correspondence will be filed before the commission," explained senior Congress leader and HRD minister Kapil Sibal.
"If the Election Commission has asked the government for clarification, I'm sure the appropriate part will provide that information to the EC. The more relevant question, which BJP should answer, is why are they afraid of cash transfer? Do they want money of the people should go directly into the hands of people, that's the germane issue," said Information and Broadcasting Minister Manish Tewari.
A BJP delegation led by senior leader L K Advani had personally met the Chief Election Commissioner on Friday to complain against the announcement.
Four of the 51 districts in which the cash transfer scheme is to be implemented from January 1 fall in poll-bound Gujarat.
Sources said the Election Commission's fresh letter to the Cabinet Secretary was the second reminder in the matter.
The government had, in a major announcement, claimed the scheme as a "game-changer", with Finance Minister P Chidambaram and Rural Development Minister Jairam Ramesh personally launching the scheme from the Congress headquarters.
Gujarat goes to polls in two phases on December 13 and 17 and the Model Code is in force in the state.
(With PTI inputs)