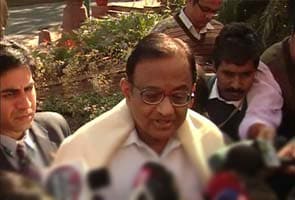 New Delhi:
On Thursday morning, as the votes were being counted, Finance Minister P Chidambaram confounded many when he said that "the Congress is also a winner in Gujarat" because it had kept Mr Modi from a landslide victory.
"The Congress is a winner in Gujarat. We have been able to contain BJP and Modi to under 117 seats," said Finance Minister P Chidambaram, as the initial trends came in.
Mr Modi also jabbed the Congress hard. "Arre yaar," Mr Modi said in his speech hours later, "even if you add up the seats they won in Himachal Pradesh with their seats in Gujarat, they will still not match our numbers here."
(Watch: Modi's victory speech)
"Have some shame! Even if BJP would have won only 93 seats in the state, then also we would have taken the oath. A victory is a victory," he said, criticising comments on the margin of BJP's win in Gujarat.
In Delhi, BJP's Ravi Shankar Prasad said, "If that is a consolation for Mr Chidambaram, good luck to him,"
"There has been some kind of campaign to belittle Modi's leadership and governance since he became chief minister," he added, "not just a national campaign but an international campaign."
The Congress claims that the results in Gujarat do not reflect national sentiment. The party also claims that Mr Modi will not be able to employ his victory to leap to the national political stage ahead of the general elections in 2014.
"Yes, Gujarat has gone Mr Modi's way...but the result does not mean he has gained national acceptability," said Congress spokesperson Abhishek Manu Singhvi.
For Mr Modi and his party, the quandary now lies in how to convince important allies like Nitish Kumar that the Gujarat chief minister deserves a shot at the top job of Prime Minister.
(Read: Nitish's party not swayed by Modi's win)
Mr Kumar, who is the chief minister of Bihar, belongs to the Janata Dal (United) which is a senior member of the national coalition or NDA that is led by the BJP. Mr Kumar has repeatedly made it clear that he will quit the coalition if it selects Mr Modi as its candidate for prime minister for the general election in 2014.
The communal riots in Gujarat in 2002 which took place when Mr Modi was chief minister loom over his aspirations to move to the national political stage. Mr Kumar has said that he will not accept a leader for the coalition whose secular credentials are questionable.