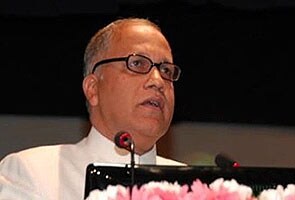 Panaji:
As the sun set over the lazy Mandovi, a group of large migratory birds fluttered across the crimson evening skies. Suddenly, they changed directions in perfect harmony and flew just along the surface of Panjim's beautiful river.
My cameraperson instinctively spotted a great shot and panned his camera as the birds flew over the calm waters. And almost simultaneously, I spotted my one defining frame: the birds flying right past a cruise-turned-gambling den named Casino Carnival.
Perhaps there couldn't have been a more telling image to describe the loot in Goa. All you need to do is replace the birds by a motley crowd of politicians perceived to be opportunistic and power-hungry, who now stand accused of turning their government into a casino and leaving governance to the whims and fancies of a dozen odd greedy, black-mailing gamblers.
That said, a carnival lasts only for a few days. The suspected plundering in Goa had continued for much too long. An alleged Rs 25,000 illegal mining scam, a controversial Regional Plan, key ministries like Mining, Health and PWD that stood accused of systematized corruption and an overall paralysis in governance. A depressing narrative that's plagued the state for over 5 years.
I have covered assembly elections in several states and nowhere else have I ever sensed such a strong anti-incumbency wave on the ground as I did in Goa. And hence, the drubbing the BJP gave the Congress was largely expected.
Enter a public restroom in Panjim and the usher - with just the gentlest of provocation - goes on a vicious diatribe against the ruling Congress-NCP alliance. Sit in a Goan drawing room and they let loose the choicest of abuses in Konkani against the government. A few children died in a bus accident in Aldona in North Goa. Precious lives were lost because of the driver's error. And locals were so angry against their Congress MLA for not completing a bridge in the area, that they even refused to allow CM Digambar Kamat to visit the site. Or for that matter, a group of drivers who complain how they weren't able to secure even petty government jobs as they were all up for sale. They joke on how they want to gift 9 eggs to a particular MLA - one for each seat the Congress won.
"For years now, the people of Goa have been opposing the misrule and poor governance. There have been tens of protests. But this government simply turned a blind eye as if nothing had ever happened. They took Goa for granted," explains Dr Oscar Rebello, a physician and a leading activist in Goa.
In fact, Goa can be an apt case study to understand how to commit political hara-kiri and give a walk-over to one's opponent. As if allegations of scams and corruption against top cabinet ministers weren't distressing enough, the Congress party seemed to compliment their alleged misdeeds by doling out 12 tickets to family members of 5 of its most influential and powerful leaders. That's 12 out of the 40 seats - 30% of seats - the alliance was contesting.
The BJP rightly sensed the pulse of the people and screamed "family raj" and "nepotism." Their intelligence insulted and challenged, the Goan voter retaliated with vengeance: a record 82 % turnout on voting day and the writing on the wall was clear. Come counting day and the decimation was complete. Congress was able to win only 4 of these 12 "family" seats and ended with an embarrassingly paltry total of only 9 out of 40 seats.
It wasn't that the BJP had put up brilliant candidates. Or promised the moon to Goa. What did the Congress in was over-confidence that bordered and often crossed into arrogance. In an interview with Kamat, I asked him was it so hard to find deserving candidates that go beyond family members of MLAs and he said, "If some people who are working in their constituencies have won the confidence of people and if they deserve a ticket and can win the seat, why should the party see whose son or daughter they are? Ultimately this is a democracy. The people have to be blamed for whom they elect. You can't blame the party or the chief minister."
Or take the case of how sitting MLAs have increased their wealth by stupendously unbelievable amounts and turned crorepatis several times over. Former chief minister and speaker Pratapsingh Rane from the Congress, nonchalantly told me, "No, no. It's just inflation. You give a beggar Re 1 today and he will throw it back and demand Rs 10."
As they say, when in Goa, leave logic at home!
But the real game-changer was the disenchantment of the Christian voters, who deserted the Congress lock, stock and barrel. In South Goa - particularly the Christian belt of Salcette - which for the first time was swept by the BJP.
"They thought Christians are munkars which means 'tenant' in Konkani. As if we were blind and electorally always available for the Congress, irrespective of how corrupt they were or how they had performed," explained Juino De Souza.
This tectonic shift in voting patterns also saw another first. The Church - perceived to be pro-Congress - was actively sermonising to vote against the party. A far cry from 2002, after the Gujarat riots, when the Church took an anti-BJP stance. This time the mantra was 'vote against corruption'. Even several Muslim groups, fell short of asking their community to vote for the BJP, but publicly advertised to vote against the Congress.
Forget the above. It's an old strategy in war where it is said that half the battle is won by studying the enemy closely. A record number of Christians had come forward seeking tickets from the BJP which ultimately was supporting or fielding Christians in as many as 35% of the 40 seats. Had the Congress had one ear -and both feet - to the ground, this could have been a good indicator to gather the mood in the minority community. But the Congress failed on this count too.
They all seemed to be in la-la land.
Days before Goa went to the polls, I asked Kamat if he would be the next Chief Minister of Goa. "That only God and Sonia Gandhi know," Kamat said almost apologetically in a single breath, leaving his fate to different forms of 'divinity'.
Well, Mr Kamat, the people of Goa have spoken.
Let's not disturb God. And Sonia Gandhi.

(The author is the Associate Bureau Chief, Mumbai for NDTV 24X7)