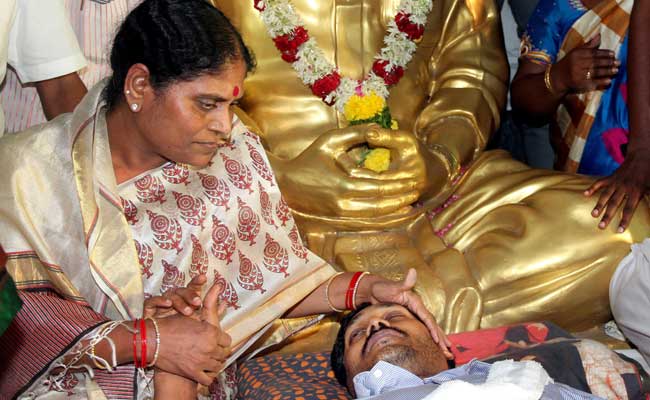 Guntur:
YSR Congress party president YS. Jaganmohan Reddy's condition deteriorated further today as he continued for the sixth day his indefinite fast to demand special category status to Andhra Pradesh.
The concern was growing among the party leaders as the leader of opposition turned weak and was barely able to speak.
The sugar levels and pulse rate of Jagan, as the leader is popularly known, continued to fluctuate throughout the day as a team of doctors kept a close watch on his condition.
Mr Reddy's mother YS Vijayamma rushed to Guntur following further deterioration in his condition. His wife Bharathi was also sitting by his side. Large number of party cadre from different parts of the state also rushed to Guntur to show solidarity with their leader.
Doctors have advised Mr Reddy to call off the fast since dehydration is causing ketones in urine to increase and this would have an adverse impact on the functioning of his kidneys.
The YSRCP leader has vowed continue his fast till the central government accords special status to Andhra Pradesh.
Tension prevailed at the hunger strike camp today when a party worker attempted self-immolation. He had doused kerosene and was about to set himself on fire when other party workers and police stopped him.
A youth also tried to attempt suicide in the temple town of Tirupati.
YSRCP has reacted sharply to statements by Health Minister Kamineni Srinivas and Agriculture Minister P. Pulla Rao, raising doubts over Mr Reddy's fast. The health minister said the sugar levels of Mr Reddy increased to 83 on Sunday evening after dipping to 59 in the morning.
In Anantapur, Mr Srinivas had to face the ire of the YSRCP workers. They tried to mob him and raise slogans. Police had to intervene and arrest the protesters.