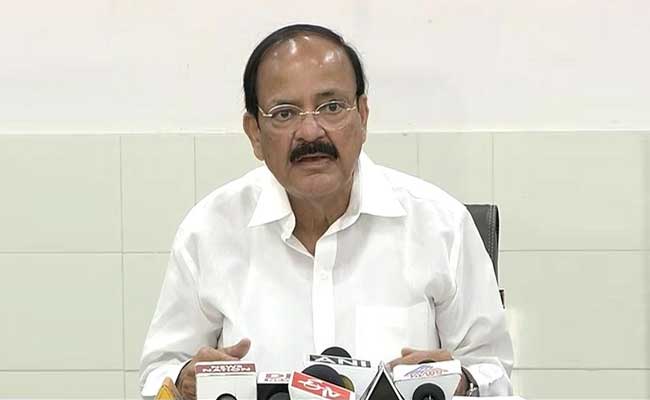 Tirupati:
Union Minister Venkaiah Naidu today said the Narendra Modi-led NDA government would offer complete support for all-round development of Andhra Pradesh besides the Rs 2.25 lakh crore financial package announced recently.
Accusing the previous Congress-led UPA regime of 'hastily and unilaterally' carving out Telangana from Andhra Pradesh in 'just 23 minutes' in Parliament, he said in the process the special category status to the residual state was not included in the Andhra Pradesh State Reorganisation bill that later became an act.
Addressing BJP workers here, he alleged that Congress did nothing for Andhra Pradesh during its five decades of rule in the state, but the present NDA government was taking various measures for the development of the state.
Besides the financial package, it would extend more assistance ensuring the all-round development of the state, he said.
He said though the foundation for the Polavaram irrigation project was laid by then Chief Minister T Anjaiah 34 years ago, there was no progress all these years. Only after the NDA came to power at the Centre and TDP in the state, the work on the project was moving fast with full funding by the Centre, he claimed.
Listing out various measures taken by the NDA, he said Andhra Pradesh has been given top priority in housing schemes, while Rs 64,000 crore has been earmarked for building roads.
Three smart cities - Visakhapatnam, Kakinada and Tirupati - with an outlay of Rs 1,500 crore had been sanctioned in Andhra Pradesh, he said, adding the Vizag-Chennai industrial corridor would be developed with funds from Asian Development Bank.
He said the Centre was committed to facilitating the expansion of the Visakhapatnam Steel Plant at a cost of Rs 38,000 crore and a mega defence industry also would come up in Kurnool in an area of 2,900 acres.
In addition to this, the Centre was planning to offer some incentives to industries through the Central Board of Direct Taxes (CBDT), he said.