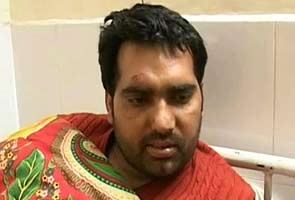 Amritsar:
"I apologise for what happened. I regret I did it" - these are the words of Ranjit Singh Rana, the former Akali Dal politician arrested for the murder of Punjab police officer Ravinderpal Singh, who had tried to stop him from harassing his daughter.
Mr Rana, who has been sent to five days in police custody, offered the apology from his bed at a government hospital in Tarn Taran area.
He alleged Assistant Sub-Inspector (ASI) Ravinderpal Singh too fired at him - a claim yet to be confirmed by the police.
"One of the boys with me wanted to speak to the girl. He abused her and both of them argued, but bystanders intervened and got it resolved. Then her father (Ravinderpal Singh) started firing at us. I had run out of bullets, so I went home and brought my gun and shot him. I regret it," Mr Rana said.
But for the officer's family, the expression of regret means little. "He should be given death penalty. That is the only help I want from the state government. I want justice," said Navpreet, Mr Singh's son, who flew down from Australia to perform his father's last rites.
Mr Singh, 47, was cremated in his native village of Rampura on the outskirts of Amritsar on Friday. His son and 23-year-old daughter performed the last rites.
The officer was shot dead on Wednesday in full public view in Amritsar's Chehertha locality after he confronted Mr Rana for allegedly harassing his daughter. He was first shot in the legs. On way to hospital, Mr Rana allegedly waylaid him and shot in the chest from close range.
A senior police officer has now been suspended over the incident. Paramraj Singh Umranangal, Deputy Inspector General (Border Range), was put under suspension "for not performing his duties efficiently", an official release said on Saturday night. "He has created indiscipline in the Border Range," the release said adding "his headquarters during the period of suspension would be in the office of DGP, Punjab".
Earlier, another junior cop who was dismissed after the incident denied allegations of inaction. Speaking to NDTV, Station House Officer Ashwini Kumar said, "ASI never made distress calls to me...you can check my call details...the girl came to me on December 1, said four people in a black car had abused her...girl gave me the vehicle number...I flashed it immediately on wireless...she never filed a written complaint...injustice has been done to me."
Navpreet is fighting the grief of his father's loss and fear at the same time. "We are scared. We have been told the accused is very dangerous. The government has provided us security, but I am still worried because my mother and sister live here," he says.
Navpreet, who got engaged a fortnight ago, is happy that his sister is being appointed as a sub-inspector in the state police on special grounds. But he says only speedy justice can compensate for his father's loss.
(With PTI inputs)