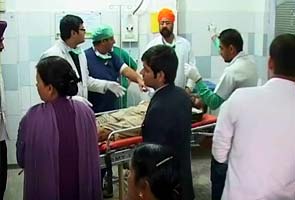 Amritsar:
The daughter of Punjab police officer Ravinderpal Singh, who was allegedly shot dead by former Akali Dal politician Ranjit Singh Rana in Amritsar, says she wants her father's murderer to meet the same fate.
"He should be killed the same way he killed my father," says the 23-year-old, who witnessed Assistant Sub-Inspector Ravinderpal Singh's murder in Amritsar's Chehertha locality on Wednesday. The woman too suffered a bullet wound in her hand.
Punjab Deputy Chief Minister Sukhbir Singh Badal has ordered that the officer's daughter be appointed as sub-inspector in the state police on special grounds. "The girl displayed exemplary courage," he said on Wednesday night.
Mr Rana has been arrested along with three associates and sacked by the Akali Dal. The police officer's daughter says they used to harass her and pass lewd comments and her father was killed for raising a protest.
When Mr Singh, along with his daughter, went to Mr Rana's house on Wednesday to warn him, the politician allegedly shot him in the legs. On the way to hospital, the officer was waylaid by Mr Rana, who allegedly shot him in the chest this time.
Mr Singh was rushed to hospital with heavy bleeding and declared dead. A police station close to the murder spot failed to react in time and come to the 47-year-old officer's help. The station house officer has been dismissed for the lapse.
Mr Rana was general secretary of the Akali Dal's Amritsar district unit and inducted into the party in September. He was removed amid widespread outrage over the murder.
(With inputs from agencies)