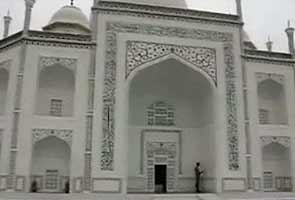 Agra:
The reported move to build a Taj Mahal in Dubai has not gone down well here with people who think it amounts to desecrating a renowned tourist draw and a spiritual monument.
The proposed Taj will be about four times the size of the original monument. To be ready by 2014, it will be set in the heart of the 41 million square foot Falcon city of wonders on Emirates Road. It will be a five star hotel with 300 rooms.
People in Agra, about 200 km south of New Delhi, are not amused. They are angry that someone is trying to copy the original, a 17th century marble monument built by Mughal emperor Shah Jahan in memory of his wife.
"At best it can only be a caricature of the original. From where will they bring the romantic tales, the river Yamuna and the ambience of Agra?" asks Rakesh Sharma, president of the All India Brahmin Mahasabha.
The Taj, Agra residents hold, belongs to Agra and India.
"At least they should pay a royalty to the Taj city for using its brand name," tourism industry leader Abhinav Jain told IANS.
According to Mr Jain, the Taj Mahal is a special monument, unlike a palace or castle or even the Eiffel Tower.
Taj Arabia will celebrate the union of couples by serving as the world's grandest wedding destination, according to a report in the Gulf News.
Former Agra legislator Satish Chandra Gupta is livid.
"It is patently wrong and absurd," Mr Gupta told IANS. "This kind of distortion and in principle duplication of history artificially makes no sense.
"You cannot re-create history. Agra must get its share in terms of royalty from anyone using the brand Taj Mahal."
Mr Gupta said the original design of the Taj was given by a Sufi saint.
The Braj Mandal Heritage Conservation Society has shot out protest letters to Uttar Pradesh Chief Minister Akhilesh Yadav and the Archeological Survey of India.
Surendra Sharma, president of the Society, told IANS: "Ideally the Dubai builder should not go ahead with this project as it hurts our sentiments. Taj Mahal is basically a spiritual centre, with lakhs of people offering prayers and paying obeisance round the year.
"The Taj represents or climaxes the 5,000 years of Indian excellence. To belittle the original through a fake model is not a desirable thing."
The Taj's caretaker, Munazzar Ali, said nobody should doubt that the Taj Mahal was a spiritual destination for millions.
Islamic scholar Syed Jafrey explained the divine design of the Taj, India's biggest tourist draw.
"Basically, the Taj is a mausoleum, a mazar. Its status is the same as the mazaars of some great saints like Chisti or Auliya. Shah Jahan is now given the status of Vali-Allah, and an annual Urs is held," he said.
Former Agra mayor Anjula Singh Mahaur said she felt deeply hurt. "For commercial purposes you cannot misuse symbols and identity of a nation," she said.
Get Breaking news, live coverage, and Latest News from India and around the world on NDTV.com. Catch all the Live TV action on NDTV 24x7 and NDTV India. Like us on Facebook or follow us on Twitter and Instagram for latest news and live news updates.