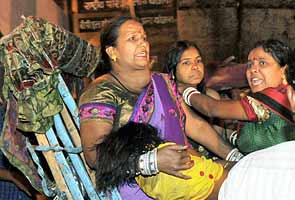 Patna:
Fifteen people, including nine children, were killed and many others injured in a stampede in Patna on Monday. The incident took place during the Chhath puja at Adalatghat Ghat on the bank of river Ganga.
Patna District Magistrate Sanjay Kumar said, "There are total 15 dead bodies and their post-mortem was done last night. Out of these, nine are children." He also said that two of the injured are undergoing treatment at a private hospital in Patna.
"The bridge had developed a crack due to which the people were diverted. Because of the diversion there was a lot of confusion and ruckus. Then there was a power cut that led to panic which and caused the stampede," said Jayant Kant, Superintendent of Police (Patna City).
The stampede occurred as the devotees, returning home after 'Arghya' - offering prayers around sunset - at the ghat, tried to rush out of a narrow make-shift bridge and approach a wider pontoon bridge by climbing steep stairs at the bank. The make-shift bridge reportedly collapsed due to huge crowd.
But Chief Minister Nitish Kumar refuted reports that the deaths were caused by the collapse of a bamboo bridge. "The reason of this is not the collapse of the bamboo bridge but the stampede. We still don't know the reason behind the stampede. We have ordered an enquiry into the cause of the accident. We have requested the Home Secretary to look into the matter seriously and give us a report as soon as possible," the Chief Minister said.
Mr Kumar also said that the incident should not be politicised. "It is a very sad incident. I will like to appeal to everyone that at this time we should all come together to resolve the crisis," Mr Kumar said.
His remarks came after angry relatives of the injured smashed glasses at the emergency ward of the Patna Medical College Hospital, protesting against inadequate treatment. This led the doctors to leave the hospital soon after.
The Chief Minister, however, said the doctors returned following the intervention of the Principal Secretary (Health) and the Director General of Police.
The government has announced a compensation of Rs 2 lakh to the next of kin of each of those killed, a district official said.
Over four lakh people from Patna and nearby areas gathered at different ghats for Chhath celebration, officials said.