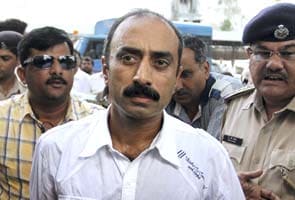 Ahmedabad:
A Gujarat court has framed charges of murder against Indian Police Service officer Sanjeev Bhatt, who is best known for alleging that Chief Minister Narendra Modi had asked state police to go slow against Hindus in the 2002 Gujarat riots and to allow them to "vent their anger".
The court has framed charges against Mr Bhatt in a 22-year-old custodial death case. The IPS officer had gone to Supreme Court against this, but his plea was turned down. There are other charges apart from murder against him as well in the case.
On October 10, 1990, 133 people, including one Prabhu Das Vaishnavi, were arrested after communal violence in Jamjodhpur town. They were kept in police custody for a month before Vaishnavi was admitted in a hospital upon his release November 8, 1990. He died after 10 days in the hospital.
The matter was investigated by the Criminal Investigation Department (CID) which found nothing against Mr Bhatt and other officers. However, a local magistrate court did not accept the closure report and took cognizance of the case. The government had challenged this order, but later withdrew the challenge, clearing the way for Mr Bhatt's prosecution.
Mr Bhatt, who is under suspension, won a minor victory of sorts against the Gujarat government when one of the suspension orders was revoked by the Union home ministry. However, other suspension orders continue.
He had recently also written an open letter to Mr Modi after a former Gujarat minister and close aide of the Chief Minister, Mayaben Kodnani, was jailed for 28 years for her involvement in the Naroda Patiya riots case. The letter was extremely critical of Mr Modi.