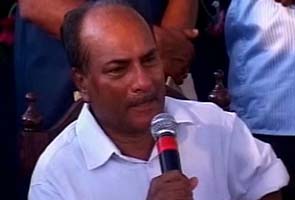 New Delhi:
The AK Antony panel set up to review the Congress' poor electoral showing in five states this year, has said that communal remarks made by senior leaders led to the debacle in Uttar Pradesh, NDTV has learnt. The members of the review committee will meet party general secretary Digvijaya Singh today.
The three-member panel - which has on it senior Congress leader Sushil Kumar Shinde and Delhi Chief Minister Sheila Dikshit, apart from the Defence Minister, Mr Antony - has reportedly concluded that in the party's effort to woo UP's substantial minority vote bank, senior leaders made statements that were perceived to be communal. Also, the panel finds, that the party's heavy reliance on Muslim leaders in western UP did not pay off.
The panel has also reported that the Congress relied too much on the caste factor in UP, but did not get its configuration right to play that card effectively. So ticket were given to party outsiders, who did not strengthen the Congress and were also not acceptable to partymen.
In Goa, where the Congress handed over an easy win to the BJP, the panel has confirmed what the party leadership has already admitted. That the mining scam dealt a huge blow to the image of the Congress, which then found it difficult to shake off the corruption taint. The party also lost the support of the Church and minority groups voted against it, the panel has concluded.
The Punjab election results hit the Congress hard - for the first time in decades a party in power, the Akali Dal, shook off all notions of the anti-incumbency factor to come right back. The Antony panel has found fault with the Congress' campaign in the state; the party, it has concluded, was unable to highlight corruption issues against the Badal government.
The Antony panel set up by the Congress President to review the poor show in that state and to understand what went wrong.
The setting up of the informal Antony committee by Congress chief Sonia Gandhi was seen as the party wanting to set its house in order by drawing on lessons from this year's Assembly polls to make the party battle ready for Lok Sabha elections 2014.