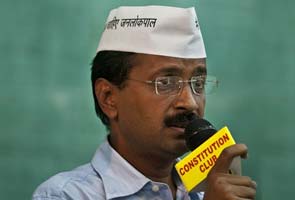 New Delhi:
A day after its name was announced, Arvind Kejriwal's Aam Aadmi Party will hold its first official meeting today. Key strategies are likely to be discussed at the meet scheduled for this evening in New Delhi. Aam Aadmi Party, which means the party for the common man who Mr Kejriwal claims to represent, will fight elections, the activist-turned-politician has said.
Mr Kejriwal had, amid much hype, announced his party two months ago. The party will tomorrow, officially be launched from the Jantar Mantar in New Delhi, the venue of several protests led by Mr Kejriwal's and that of his mentor Anna Hazare's India Against Corruption's (IAC). Mr Kejriwal has said that all those who turn up at Jantar Mantar tomorrow would be treated as founding members of the party.
The date of the party's launch - November 26 - is symbolic. The Constitution of India was adopted on this day in 1949. Mr Kejriwal's party will also draw heavily from the Constitution.
Yesterday, the naming of Mr Kejriwal's party had elicited a response from the Congress which, some years ago, successfully rode into power using the aam aadmi plank. "The Aam Aadmi (common man) is synonymous with the Congress since 1885 when the party came into existence...Therefore, nobody can either hijack or skyjack or bicycle-jack the intrinsic relationship between the Congress and the people of this country," party leader and Union Minister Manish Tewari said yesterday. But Mr Kejriwal was quick to retort, saying the Congress had hijacked the word earlier but they could not hijack the common man.
His party is expected to fight the Assembly elections in Delhi which is due towards the end of next year.
Mr Kejriwal's decision to enter politics had led to a parting of ways with his mentor, Anna Hazare. The activist-turned-politician had earlier said that his group will not use 'India Against Corruption' (IAC) as its name after the formation of his political party on November 26. Anna had laid claim to that name.
Mr Kejriwal's decision to launch what he describes as "a political alternative" was announced in August, when the India Against Corruption movement that Anna and he had headlined appeared to be dissipating in public. Mr Kejriwal was at the time on a six-day fast in Delhi. The crowds at his base camp were thin. The government ignored him, refusing to urge him to eat, or to talk about when the Lokpal bill - named for the new anti-graft body it births- would be cleared as law. It has passed in the Lok Sabha, but has been stalled in the Rajya Sabha.