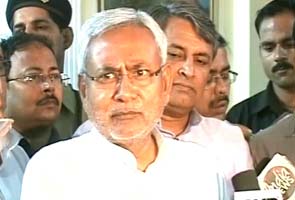 Patna:
Bihar Chief Minister Nitish Kumar has described as "totally wrong" the arrest of an alleged terrorist from his state's Darbhanga district - his government and the state police were not informed of the arrest. Mr Kumar says the arrest was "illegal" and "highly objectionable." He says the Bihar police will send a written complaint to Home Minister P Chidambaram.
Kafeel Ahmed was arrested on Sunday by a joint team of the Andhra Pradesh and Karnataka police for allegedly being a member of terrorist group Indian Mujahideen. Mr Ahmed, according to those who arrested him, was involved with blasts in Bangalore in 2010. At least 17 peole including five security officers were injured during two explosions at the city's packed Chinnaswamy stadium during an IPL match.
Mr Kumar said Mr Ahmed's arrest was not recorded at a local police station. The Director-General of Police in Bihar was also not taken into confidence either before or after the arrest. En route to Bangalore, the terror suspect was produced in a court in Jharkhand, several hundred kms from his home. The Bihar government says this violates all guidelines because he should have been brought to a court in Bihar by the officers who arrested him.
During a meeting called by the Prime Minister over the weekend, many chief ministers had objected to the search and arrest powers given to the new National Counter Terrorism Centre. Chief Ministers including Mr Kumar had said that the NCTC could not be endowed with the right to arrest people without keeping the local police or the state government in the loop. This, they said, would violate their autonomy.
"Usually for normal cases, we have to inform the local police yes, but in such cases, we can inform later. It is an exception, " said AR Infant, who heads the Karnataka police force.
Syed, a young man from Bangalore, has also been arrested for allegedly planning the blasts and acquiring the explosives used along with Mr Ahmed.
Earlier this year, Bilal, another youth from Bihar, was nabbed by the Bangalore police in connection with the same case.
While the Bangalore police calls the latest arrests a major breakthrough, the case still remains unsolved. Through the course of questioning, the police hopes to get more leads.