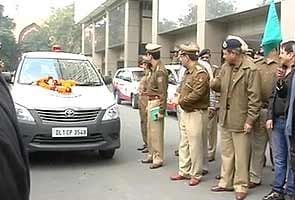 New Delhi:
Twelve new Police Control Room (PCR) vans have rolled out today on the streets of Delhi. They are part of the additional 350 PCR vans being pressed into service by the Delhi Police to beef up security for citizens, especially women, in the capital.
Initially, these new vans will patrol and secure the borders of the National Capital Region (NCR). "We have installed GPS system in these new PCR vans. They will regularly patrol the highways and we have provided them with long-range weapons," said Deepak Mishra, special commissioner of police, law and order.
He added, "These 12 teams are tasked with intervening in any situation where there is a violation of law along the highways - for instance, speeding, accidents, and incidents of road-rage. They will also be expected to watch out for suspicious vehicles and activity,"
The rest of the new fleet, to be rolled out in phases, will patrol the city's streets. Recently, the Delhi High Court had instructed the Delhi Police to increase the number of PCR vans in the capital from the present 617. Posting at least one woman staffer in each mobile PCR is also being considered by the police. An increased presence of PCR vans at the gates of women's colleges, and other public places frequented by women, has been ordered.
Delhi's notoriety as an unsafe city, especially for women, was brought into sharp relief when a 23-year-old medical student was brutally assaulted and gang-raped on December 16 last year. 'Amanat' (NOT her real name) eventually succumbed to her injuries on December 29 at a Singapore hospital, where she had been flown for treatment.
The incident shocked, shamed, and incensed the country. Nationwide protests - led by women and youth, and centered in Delhi - demanded enhanced safety measures in public spaces, and greater accountability of government and law enforcement agencies.
The Delhi Police and government have announced a slew of measures over the past month to improve law and order enforcement. Delhi Police has directed all the 180 police stations here to run a women's help desk 24x7, with at least two women police personnel in attendance. They have been instructed to inform senior officers immediately about any major distress call related to women.
The Delhi government has claimed to have doubled the number of buses that ply the capital's streets at night. All night buses now have home guards aboard to escort passengers. A special helpline number, 181, has been set up to receive distress calls from women round the clock.
Ensuring safety for women was named the top priority for Delhi Police this year at the Police Commissioner's annual press conference on January 18.