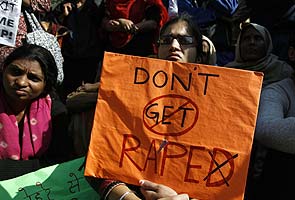 New Delhi:
The Delhi High Court today had scathing feedback for the Delhi Police Commissioner. "People are losing faith in the police and judiciary. What was the police doing before this incident?" the court asked.
Taking suo motu cognisance of the shocking case of the gang-rape of a 23-year-old girl in a moving bus on Sunday, it has asked for a report in two days on the investigation.
The court said "This incident is of great concern for all the citizens of the capital city as it relates to the safety particularly of women and girl children in Delhi."
The judges also pointed out that the bus involved in the gang-rape went through five police check-points "and nobody stopped it".
"We are at loss to understand as to how the bus could evade surveillance for 40 minutes," a bench headed by Chief Justice D Murugesan said.
The court asked the counsel for the Delhi Police to explain how the Supreme Court ban on vehicles with tinted windows had not been implemented so far. "The Police Commissioner shall also state the steps taken to remove the tinted glasses from vehicles, including public transport," the court said.
The Delhi government informed the court that a Special Investigation Team (SIT) has been set up to investigate the crime and it will be headed by Deputy Commissioner of Police Chhaya Sharma
The bench said that the probe must be "of high standards" and the final charge sheet "has to be" filed only after its perusal by this court. "We would be issuing necessary directions time to time in this court. This court will also issue the guidelines after taking note of the contentions of all concerned," it said.
The court also asked the Director of central forensic laboratories to accord primacy to the investigation in the present case.
The Delhi High court has also sanctioned five fast-track courts to deal with rape cases. However, Justice Murugesan observed today that unless investigations were conducted properly and witnesses produced during trials, even fast-track courts would not serve any purpose.
(Read)
Chief Minister Sheila Dikshit had yesterday urged the Chief Justice of Delhi High Court to take "urgent" action in making the fast-track courts functional. She said the city government had already approved setting up of the fast-track courts to deal with the cases of sexual assault on women and to provide speedy justice and conviction of the guilty.
The two judge bench enquired about victim's medical condition and asked the Delhi Government to consider shifting her to a super specialty hospital. "We direct the Delhi Government to shift, if possible, the victim to a super specialty hospital. If it is not possible to shift her, then the experts be asked to visit her," Justice Murugesan said and posted the matter for hearing on Friday.