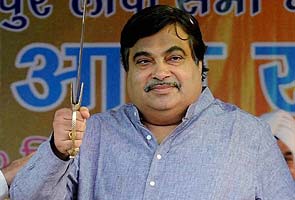 New Delhi/Nagpur: When Arvind Kejriwal formed a political party on Mahatma Gandhi's birth anniversary on October 2, he promised to out two powerful people for corruption.

So far, he has focused mainly on Robert Vadra, the son-in-law of Congress president, Sonia Gandhi. His next disclosure, which he has announced for October 16, is likely to focus on BJP president Nitin Gadkari. Mr Kejriwal, formerly an anti-graft activist, has been described by Congress leaders as "the BJP's B-team" - an accusation that he is a Congress-baiter with deep links to the Opposition. He, however, has said both the Congress and BJP are entrenched in corruption, and that is why he wants to provide a political alternative to voters.

In Nagpur today, Anjali Damania, a Right to Information activist closely associated with Mr Kejriwal said that she was in the city to collect documents and information about Mr Gadkari. She said Mr Kejriwal and she will share these details at a press conference on Tuesday.

Last month, Ms Damania shot into the headlines for helping expose a scam worth Rs 70,000 crore in Maharashtra, centred on the construction of dams and canals. Ms Damania said that at a meeting at his home in August, Mr Gadkari had suggested that she drop her attempts to go to court with the documents she had collected through the Right to Information Act. She claimed that the BJP president told her that he has business links with Sharad Pawar, the leader of the NCP, which co-governs Maharashtra with the Congress.

Mr Gadkari has sued Ms Damania for defamation and has denied meeting her.

Mr Kejriwal's political party, as yet unnamed, is the offspring of a civil society group called India Against Corruption (IAC); Ms Damania is a member of the IAC. The movement was originally frontlined by 75-year-old Gandhian Anna Hazare, with Mr Kejriwal as his second-in-command. However, the latter's decision to form a political party provoked a split. Anna has forbidden Mr Kejriwal from using his name or photos to promote his new party.

Story first published:
October 12, 2012 19:02 IST