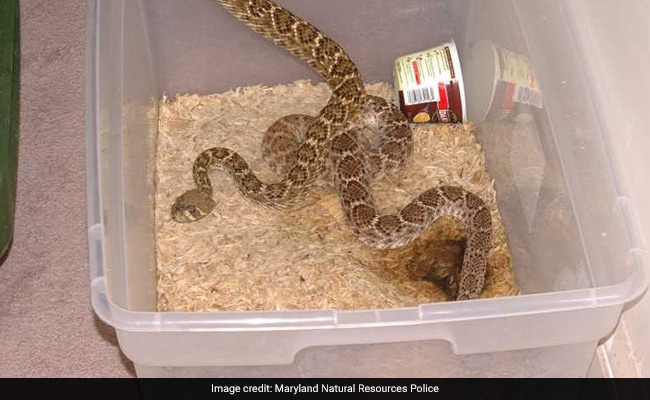 Washington:
A Maryland man who runs a popular YouTube channel dedicated to reptiles has been charged with animal cruelty, illegally possessing venomous snakes and endangering residents of the apartment building where he lived, police said.
Brandon Joseph Boyles, 28, of Cascade, Maryland, kept six Western diamondback rattlesnakes, one seven-foot-long forest cobra, one Cape coral cobra and two boomslangs in plastic boxes from which they could easily escape in his apartment, Maryland Natural Resources Police (MNRP) said. All the snakes have bites that can be fatal to humans.
Investigators who obtained a search warrant to examine Boyles's apartment in February also found two dead cobras in a freezer and determined the snakes kept in bins did not have fresh water, police said. One of the plastic containers was filthy, they said.
Boyles, who is known as "VenomMan20" online, was charged with 23 counts on Friday, police said.
In 2016 and 2017, police said, Boyles posted videos to YouTube showing him unboxing venomous snakes, including a Gaboon viper, a monocled cobra and an Indochinese spitting cobra. The videos were shot in his apartment.
"As long as people aren't respecting reptiles or loving snakes, I will be right here educating as many people as I humanly can," Boyles says in one video posted on his YouTube channel.
An MNRP investigator learned that Boyle had left his job at the Catoctin Zoo and Wildlife Preserve in Thurmont, Maryland in September. Boyles took five venomous snakes, three alligators and a crocodile that he owned, police said.
In November, Boyles turned over a dusky pygmy rattlesnake to the Maryland Reptile Conservation Center in Montgomery County. Police did not detail the fate of the other animals he took from the zoo.
Boyles is scheduled to appear in Washington County District Court on May 8.
(This story has not been edited by NDTV staff and is auto-generated from a syndicated feed.)