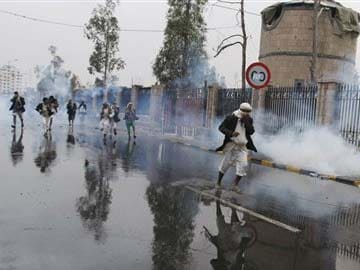 Sanaa:
Yemeni police on Tuesday opened fire on Shiite protesters marching toward the prime minister's office in the capital, Sanaa, killing at least four people and wounding 10, officials said.
The shooting erupted during a rally by supporters of Shiite Hawthi rebels who have been fighting against Sunni tribesmen in the country's north.
As the demonstrators marched up to the government headquarters, the police first fired tear gas to try and disperse the crowds, then started shooting.
Medical officials said four people died. Witnesses at the scene said at least 10 were wounded by gunshots while several others were injured in a stampede that erupted after the shooting, as the protesters tried to get away from the scene. The officials and witnesses spoke on condition of anonymity as they were not authorized to talk to media.
Tensions have been escalating in the Yemeni capital, where the Hawthis have staged week-long anti-government demonstrations, often clashing with the police forces and demanding that the government resign and reinstate fuel subsidies.
Negotiations have failed to diffuse the standoff and the Hawthis have kept up their rallies, camping out in the heart of Sanaa. On Sunday, one person died in the clashes with police as the Hawthi protesters marched near Sanaa's airport road.
The Hawthis had waged a six-year insurgency in the north against former Yemeni President Ali Abdullah Saleh, which officially ended in 2010. After Saleh's ouster, they have fought ultraconservative Sunni Islamists in several northern cities and towns, accusing them of turning their strongholds into incubators of extremism.
The Hawthi protest threatens to further destabilize volatile Yemen, the Arab world's most impoverished country where authorities continue to battle militants led by the country's al-Qaida branch, considered by the U.S. to be the world's most dangerous offshoot of the terror group.
President Abed Rabbo Mansour Hadi last week dismissed his Cabinet and promised to appoint a new premier within a week in a move to offer concessions, but the Hawthis only escalated their protests.
The violence in Sanaa prompted neighboring Saudi Arabia - a Sunni kingdom long at odds with the Hawthis - to evacuate its embassy over the past two days and suspend flights to Yemen. Also, the kingdom listed the Hawthis as a terrorist group earlier this year.
In 2009, while backing the former Yemeni government, Saudi Arabia unleashed a heavy offensive against the Hawthis after an incident in which the Shiite rebels crossed into the kingdom and killed a Saudi soldier.