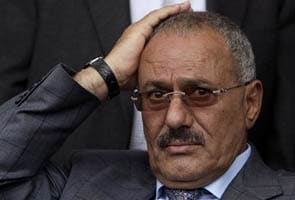 Riyadh, Saudi Arabia:
Yemeni President Ali Abdullah Saleh says he will cooperate fully with his country's new proposed unity government after he signed an agreement to transfer power to his vice president.
Saleh spoke Wednesday after signing a proposal by his country's powerful Gulf Arab neighbours aimed at ending his country's 9-month old uprising.
Saleh spoke of the cost of the uprising to Yemen, but did not mention the demands of protesters who called for his ouster. Instead, he referred to the protests as a "coup" and called a bombing of his palace mosque that seriously wounded him "a scandal."
The plan calls for a power transfer to Saleh's vice president, Abed Rabbo Mansour Hadi, within 30 days and early presidential elections within 90 days.