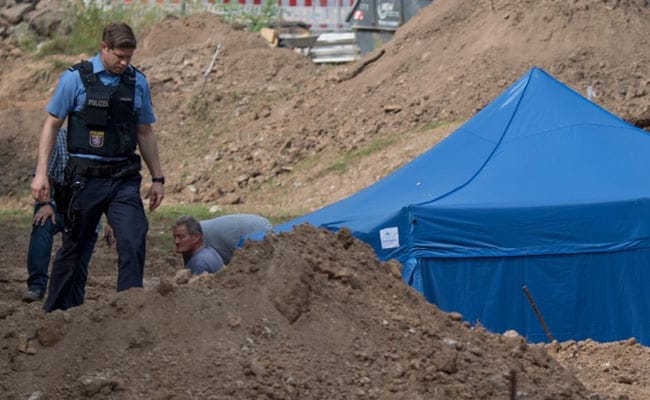 Highlights
Bomb discovered during building work a stone's throw from Frankfurt
Officers are guarding the site and there "is currently no danger"
In big evacuation plan, 70,000 people to be moved to safety on Sunday
Frankfurt:
An unexploded World War-II bomb nicknamed "blockbuster" was uncovered in Frankfurt on Wednesday. The recovery of the bomb will now lead to the evacuation of some 70,000 people this weekend in one of the biggest such evacuations in post-war Germany, police said.
The operation on Sunday will allow for the safe defusal of the 1,400-tonne British bomb, which German media said was nicknamed "Wohnblockknacker" (blockbuster) during the war for its ability to wipe out whole streets or buildings.
The unexploded bomb was discovered yesterday during building work a stone's throw from the Westend Campus of the Goethe University Frankfurt, police said in a statement.
Officers are guarding the site and there "is currently no danger".
Police said the bomb in question was a HC 4000, a socalled high capacity bomb used in air raids by British forces.
"Due to the large size of the bomb, extensive evacuation measures must be taken," police said.
The Wismarer street where the ordnance was found is close to the city centre and just some 2.5 kilometres north of the main Zeil shopping area.
More than 70 years after the end of the war, unexploded bombs are regularly found buried on German land, legacies of the intense bombing campaigns by the Allied forces against Nazi Germany.
One of the biggest such evacuations to date took place last Christmas, when another unexploded British bomb forced 54,000 people out of their homes in the southern city of Augsburg.
Another 50,000 residents had to leave their homes in the northern city of Hanover in May for an operation to defuse several WWII-era bombs.