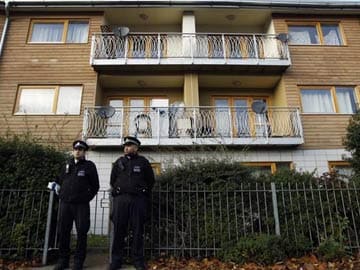 London:
Three women enslaved in London for 30 years lived in some kind of "collective" where they were controlled by their captors - a couple now in their 60s - through brainwashing and beatings, police said on Saturday.
The women were freed four weeks ago but the police only spoke about it on Thursday after making two arrests, detailing one of the strangest and longest-running cases of domestic servitude to emerge in Britain.
A man and a woman, both 67, of Indian and Tanzanian origin, who came to Britain in the 1960s, were arrested and released on bail pending further inquiries.
Police said the captives, a 69-year-old Malaysian, a 57-year-old Irishwoman and a 30-year-old Briton, had not been physically restrained at the couple's apartment, but were bound to their captors by "invisible handcuffs" in a "disturbing picture of emotional control".
"We believe that two of the victims met the male suspect in London through a shared political ideology, and that they lived together at an address that you could effectively call a 'collective'," Commander Steve Rodhouse said in a statement.
"Somehow that collective came to an end and how the women ended up continuing to live with the suspects ... for over 30 years is what are seeking to establish, but we believe emotional and physical abuse has been a feature of all the victims' lives."
It remains unclear how the youngest woman came to be there. Police said the captives were not related.
"The 30-year-old woman does have a birth certificate; however that is all the official documentation we can find. We believe she has lived with the suspects and the other victims all her life," Rodhouse said.
"TIP OF THE ICEBERG"
The suspects, who were arrested on suspicion of slavery and domestic servitude as well immigration offences, were previously arrested in the 1970s, the police said, without elaborating.
Police carried out house-to-house inquiries near the modern, low-rise apartment block, seeking evidence for a case which they said could take months to piece together.
Neighbours in Brixton, south London, expressed shock.
"It's horrible that something like this could happen here. This is where I grew up ... and it is a quiet area," said Valerie Lindo, a healthcare worker.
Marius Feneck, who lived two floors above the group, said the women did seem scared.
"They were quiet people but some people you just don't trust. They looked crazy," he told reporters.
The publicity surrounding the case has prompted a fivefold increase in the number of calls to the charity that first alerted police to the women.
The women contacted Freedom Charity after seeing a representative from the group on a television documentary about slavery and forced marriages. They memorised the telephone number and rang when they managed to get access to a phone.
Freedom Charity founder Aneeta Prem said this case could be "the tip of the iceberg" with more hidden modern-day slavery such as domestic servitude, sex work, or low-paid jobs in nail salons, agriculture, and restaurants, across Britain.
© Thomson Reuters 2013