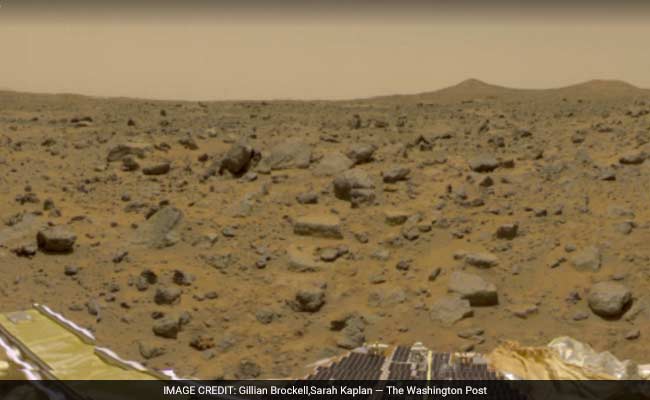 The day Gil Levin says he detected life on Mars, he was waiting in his lab at NASA's Jet Propulsion Laboratory, watching a piece of paper inch out of a printer.
Levin snatched the sheet and scrutinized the freshly inked graph. A thin line measuring radioactive carbon crept steadily upward, just as it always did when Levin performed the test with microbes on Earth. But this data came from tens of millions of miles away, where NASA's Viking lander was - for the first time in history - conducting an experiment on the surface of Mars.
"Gil, that's life," his co-investigator, Patricia Straat, exclaimed when she saw the first results come in. There was jubilation at JPL.
Afterward, Levin said, he drove into the mountains above Los Angeles, sat on the ground and stared up at the night sky.
"I was sort of trembling, you know?" he recalled. It was July 30, 1976.
Forty years later, Levin and Straat still believe that their experiment was evidence of microbiotic Martians. But few people agree with them. To NASA, and to most scientists, the 1976 Viking mission was a technical triumph but a biological bust. Scientists, such as Carl Sagan, who had wagered that large organisms "are not only possible on Mars; they may be favored," were disappointed to see images the lander sent back of a dry, barren planet. Two experiments aimed at finding life turned up negative, and NASA concluded that the results of Levin's test, called the Labeled Release experiment, could be explained by chemical processes rather than biological ones.
"I was sort of set aback," recalled NASA chief astrobiologist Penny Boston, who was still in college at the time. "I was thinking, 'Gosh, I want to work in exobiology, as we called it at the time, and now it seems like it's just a pile of rocks, and there's no life there at all.' "
Viking put a 20-year damper on Mars exploration. Even when NASA did return to the Red Planet, it completely quit trying to test for living organisms directly.
But hope was in the air at Langley Research Center last week, where NASA held a two-day conference to honor the 40th anniversary of the Viking landing. After decades of pointedly not looking for it, the space agency is more optimistic than it's been since 1976 that it might find life on Mars yet.
"Every new piece of information we get about the planet seems to point to greater and greater habitability," Boston said. "It just seems more and more likely."
The issue with the Viking experiments is that they expected to find too much too soon, speaker after speaker explained over the course of the conference. Detecting life with Viking would have been a breakthrough of unprecedented proportions, and science doesn't usually happen that way. Most "breakthroughs" come after years of accumulating incremental increases in knowledge.
So, for the past four decades, "we've engaged in creeping up on the problem," Boston said.
Some evidence in favor of a livable Mars came from the same mission that seemed to quash the possibility: Viking itself. While the two landers relayed bleak photos and disappointing data from the surface, the orbiters that were launched along with them revealed landscapes that looked strikingly like ones on our own planet.
Ellen Stofan, now NASA's chief scientist, was then a summer intern at JPL assigned to map Mangala Valles, a system of crisscrossing channels near Mars's equator.
"What was so fascinating were all these features that were so familiar from our studies of the Earth," she recalled. "Things like teardrop-shaped islands, abandoned oxbow sections of channels, features that by looking at rivers on Earth we could understand that these features on Mars had been carved by water, and in some cases by great floods of water, coursing across the Martian surface."
Images from the Viking orbiters confirmed what the Mariner 9 satellite found when it arrived at the planet five years earlier: Mars once had water, a key ingredient for the evolution of life as we know it. But that water existed hundreds of millions, perhaps even billions, of years ago, offering little promise that organisms might still exist.
Today, the space agency has two rovers and three active satellites surveying the planet. Among them is the Mars Reconnaissance Orbiter (MRO) a bulky spacecraft shaped like a metal water bird that flew into Mars orbit in 2006.
In the fall, NASA announced that photos from MRO showing dark, tendril-like formations called recurring slope lineae were actually evidence of liquid water on the planet's surface. It's only a tiny amount, and only appears under specific circumstances, but "it's really important from a scientific point of view," Stofan said last week. "... If there's life on Mars, that's probably the environment in which we would find it."
Other spacecraft have uncovered organic compounds in Martian soil and fluctuating levels of methane, which is usually a biological byproduct, in the atmosphere. Mars may be a frigid, atmosphere-less, radiation-bombarded desert, but it is slightly less of an inhospitable wasteland than the version Viking first captured 40 years ago.
Meanwhile, here on Earth, scientists have begun to realize that even apparent "wastelands" aren't as inhospitable as they seem.
When Viking landed in 1976, our understanding of the capacities and diversity of microscopic life was fairly limited. Most microbiological knowledge came from medicine, in which scientists focused on the bacteria that lived in our bodies or infected them.
"It's almost like we were looking for a gut bacteria on Mars," Boston said. "We were naive, really, about the capabilities of microbes and what you need to do to find them."
But a year after the Viking experiments, divers discovered bizarre creatures living in the dark, toxic waters around hydrothermal vents at the bottom of the Pacific - the first organisms capable of making a living off chemicals, rather than sunlight. Scientists have also found microrganisms deep within the oceanic crust and high up in the stratosphere.
Boston herself, who spent 30 years studying life in caves before being appointed director of NASA's Astrobiology Institute this year, has discovered microbes that can metabolize minerals in dark cracks in the earth. Similar environments - lava tubes, the bottoms of lake beds, rock overhangs, tiny cavities in the soil - exist on Mars and would offer protection from the planet's frigid climate and punishing solar radiation.
"That's where I want to go look," she said.
This kind of talk is frustrating for Levin, who has held for 30 years that life on Mars has already been detected. At the anniversary event Wednesday, he exhorted the audience, "there is no scientifically acceptable explanation to the Labeled Release experiments on Mars, except life."
Off stage, Levin admitted he was surprised he was invited to speak at the conference (when he announced his opinion at the 10th anniversary celebration, he says he was pelted with shrimp).
"I'm very glad because I was invited, despite this long convolution of disagreements. I kind of hope it means they're beginning to consider the experiment again," he said.
In a statement, Walt Engelund, the director of the Space Technology and Exploration Directorate at NASA Langley, said there was no "implicit motivation" in inviting Levin. He was an integral part of the mission's science team, and merited a chance to "discuss and defend his own perspectives," Engelund said.
But it is true that NASA is gearing up to start a more focused search for Martians past and present. The last decade and a half of Mars exploration has focused on "following the water" to identify spots where the Red Planet might potentially be habitable.
"It's a much more sophisticated approach," Boston said. "We're trying to map out the parameters that we know are conducive to life surviving - and it's a whole lot more work than we realized." (Levin, ever impatient, scoffed at that excuse.)
A new rover scheduled to launch in 2020 will carry several instruments aimed at finding organisms, or at least organics.
Among them are SHERLOC, which will use ultraviolet light to search for carbon molecules that might indicate ancient life and the organic compounds that could be signs it still exists, and PIXL, which uses x-rays to detect microbial biosignatures. The mission also includes plans to cache soil samples that will be returned to Earth at some later date.
But Boston believes a human mission to Mars is our best bet at detecting life beyond our planet. Other potentially habitable worlds, such as the ocean moons Europa and Enceladus, are harder to get to and pose their own challenges for exploration (namely, thick outer layers of ice). Robotic Mars rovers have dramatically expanded our understanding of our neighbor, but there's a limit to how much they can achieve. It took Opportunity 11 years and two months to move 26.2 miles - the distance of a marathon, which a human can cover in a few hours.
It will take people, Boston argued, to recognize the remains of life that might have existed billions of years ago, when scientists believe that Mars was a warmer planet with an ocean and an atmosphere not unlike our own. And if organisms still survive in the harsh environment on the planet today, they're probably buried beneath the surface, where a human with a rock hammer can get at them much more easily than a clumsy rover could.
"Nature has a lot of secrets that she's only going to reveal if we go looking for them in person," she said.
How soon such a mission can happen is debated. This week, the Government Accountability Office warned that NASA's new rocket aimed at taking humans into space may end up behind schedule and over budget. Others have cautioned that we don't know enough yet about the effects of a trip to Mars on astronauts - or, indeed, the effect astronauts might have on Mars. It might prove impossible to explore the planet without contaminating it.
But at the Viking celebration, the optimists had the day. By the 2030s, Stofan promised, there will be a new kind of life on Mars: us.
© 2016 The Washington Post
(This story has not been edited by NDTV staff and is auto-generated from a syndicated feed.)