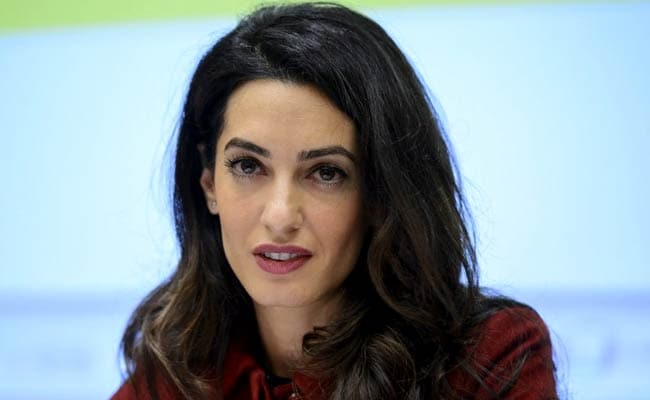 Amal Clooney, an internationally renowned human rights lawyer, is known for attracting high-profile cases. In the past year alone, she represented Armenia in the European Court of Human Rights, sparred with the Egyptian government over the independence of its judiciary, and argued the case of the Chagos Islanders, an Indian Ocean people forced out of their homeland to make way for what's now a U.S. airbase.
Now, Clooney's focus is on another nearby Indian Ocean archipelago -- the Maldives. Clooney has been lobbying on behalf of jailed former president Mohamed Nasheed, who was sentenced to 13 years in prison in March following a widely derided court case that WorldViews detailed at the time:
Nasheed and his supporters maintain that the charges are "blatantly politicized" and designed to snuff out any chance that he could contest an election again. Two of the three judges presiding over the trial also appeared as witnesses for the prosecution. Nasheed's lawyers quit in protest four days ago, arguing that they had not been given adequate time to prepare a defense.

Nasheed was also the victim of a shocking display of police abuse and violence when entering custody on Feb. 23. Scenes of Nasheed being beaten and dragged were documented by onlookers and media. Amnesty International issued a memo earlier this month condemning the Maldivian government for its "mistreatment" of Nasheed and "selective approach to justice."
In an April article in the Guardian, Clooney described Nasheed's imprisonment as a "mockery of justice, designed to punish him for criticizing the government and remove him as a political threat."
In 2008, Nasheed, who had already spent years in jail as a political prisoner, won the Maldives' first genuinely democratic presidential election, ending more than three decades of de facto dictatorship under the long-ruling autocrat Maumoon Abdul Gayoom.
But he was compelled to step down in 2012 following what some described as a coup led by elements of the old regime. "You can get rid of a dictator, but you can't get rid of a dictatorship," he lamented to me at the time.
Now, allies of Gayoom are firmly in power, and appear bent on breaking Nasheed and his political movement, the Maldivian Democratic Party. In late August, MDP officials complained of authorities harassing Nasheed's family. The former president, who was under house arrest since July 19, was also arbitrarily taken back to prison, much to Clooney's chagrin.
The move, Clooney fumed, showed the Maldivian government's "complete disregard for the rule of law." Earlier this month, she visited Nasheed in his jail cell on a Maldivian atoll. She subsequently announced a firm plan of action.
"The next stage will be to pursue targeted sanctions, travel bans and any other action and recourse that we have against the government until this matter is resolved," Clooney told reporters. She appears to have the backing of prominent officials within the British government.
But Clooney and Nasheed's legal team are up against another high-profile lawyer, Cherie Blair, wife of former British prime minister Tony Blair, whose firm, Omnia Strategy, is representing the current Maldivian government.
"The call for sanctions is inappropriate and unjustified," Blair recently told Agence France-Presse, arguing that it "threatens the economic stability of the Maldives," whose economy is largely dependent on tourism.
According to the Daily Mail, British authorities barred Blair from attending a scheduled meeting between Britain's Foreign Office Minister Hugo Swire and Maldivian Foreign Minister Dunya Maumoon. When it appeared Blair would not be present, Maumoon canceled the meeting.
"The usual protocol is for ministers of different governments to talk directly to each other. They do not need expensive lawyers to be present," a "diplomatic source" told the British tabloid. "Mrs. Blair's presence at such a meeting would have been totally inappropriate ... It suggests the Maldives government knows it is on very flaky ground legally. Why else would their foreign minister want a lawyer at her side?"
The Blairs have acquired a somewhat problematic reputation since Tony Blair left office in 2007. The former prime minister, who is still lambasted for his role in pushing the 2003 invasion of Iraq, has gone on to build a lucrative career at the head of private consultancy. Some of his major clients include a host of moneyed and often authoritarian regimes, particularly in the Middle East.
His wife's current legal battle with Amal Clooney, the object of endless fawning by fashion and gossip mags, won't do much to improve their image.
© 2015 The Washington Post