What happened in the back yard of many Americans last month was not at all representative of the experience elsewhere in the world.
While it was freezing cold and snow fell over much of the eastern United States, it was the third-warmest April on record for most of the rest of the planet.
The map of temperature differences from normal in April tells the story. Shades of orange, signifying warmer-than-normal temperatures, cover almost the entire planet. Chilly shades of blue fill much of North America.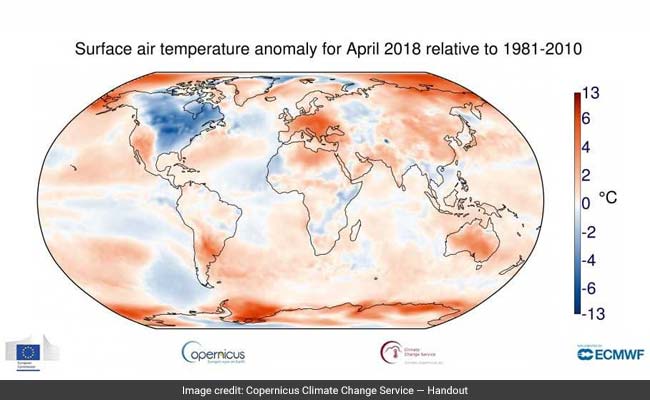 Minneapolis, Chicago and Green Bay, Wis., all posted one of their top-five coldest Aprils on record. Many lakes in Minnesota did not see all of their ice melt until May's first week, the latest on record.
Because of this tremendous cold in the Upper Midwest and Great Lakes, it was probably the coldest April for the Lower 48 since 1997. Across the pond, it was Europe's warmest April on record. Australia notched its second-warmest April on record.
The Arctic and surrounding land areas were also substantially warmer than normal, according to the European Centre for Medium Range Weather Forecasts' Copernicus Climate Change Service that produced this global temperature analysis.
Overall, the planet was close to 0.9 degrees (0.5 Celsius) warmer than the 1981-2010 average during the month. It was slightly cooler than April 2016 and 2017, the two warmest Aprils on record.
While the April 2018 global temperature was a notch below the previous two years, the Copernicus service said that "it was in line with the upward trend of 0.18 degree Celsius [0.32 Fahrenheit] per decade seen in global temperature data from 1979 onwards."
Two particularly notable extreme weather events occurred during the month:
In mid-April, a rain gauge in Kauai, Hawaii, measured 49.69 inches of rain in 24 hours, which - pending review - is the heaviest 24-hour rainfall total on record in the United States.
Nawabshah, Pakistan, reported a temperature of 122.4 degrees April 30, possibly the highest April temperature ever recorded on the planet. This heat also spread over northwest India, fueling a killer dust storm May 2 which left at least 125 dead.
Both of these extremes fit the narrative of a warmer world in which hot weather is more intense and rainstorms turn heavier.
(This story has not been edited by NDTV staff and is auto-generated from a syndicated feed.)
Follow NDTV for latest election news and live coverage of assembly elections 2019 in Maharashtra and Haryana.
Subscribe to our YouTube channel, like us on Facebook or follow us on Twitter and Instagram for latest news and live news updates.