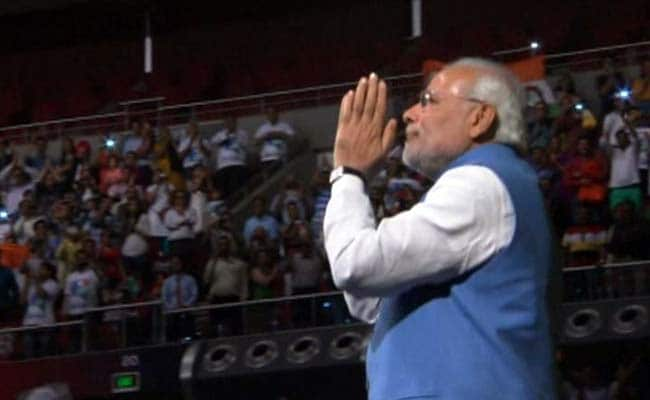 Sydney:
Last week Mick Jagger, this week Prime Minister Narendra Modi.
Thousands of expatriate Indians thronged Sydney's Allphones Arena on Monday, many travelling 1,000 km on a train dubbed the Modi Express, to clap and cheer the visiting leader.
"I know that behind this affection lie expectations," Mr Modi told the excited crowd. "We want to create the India you are dreaming of."
His appearance at the 21,000-seat arena, which hosted the Rolling Stones last week, underscored the rock star status he enjoys among some Indians at home and abroad.
In a 90-minute address, he promised lifetime visas to people of Indian origin, repeating an offer he made to expatriates in the United States that would seek to strengthen cultural and business ties between overseas Indians and their home country.
"He has a magnetic personality and he makes a lot of sense," said Mustafa Jamnagarwala, who migrated to Sydney 1-1/2 years ago from Pune. "Now I know if I invest back home my money is safer."
Mr Modi urged overseas Indians to boost investment at home, reprising an appeal made elsewhere, including the United States, where he sold out New York's Madison Square Garden in September.
"He is expecting people to contribute," said Santosh Kashid, who migrated to Sydney 10 years ago. "However, unless you make India a place to live and work it won't be possible to attract people back home."
Mr Modi arrived on Friday in Australia for the G20 economic summit, where he reportedly pushed the issue of "black money", or funds illegally deposited in overseas banks to avoid tax.
© Thomson Reuters 2014