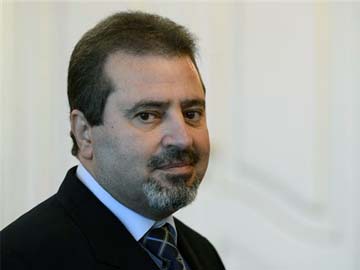 Prague:
Czech police said on Thursday they had found unregistered weapons at the Prague residence of the Palestinian ambassador who was killed by an exploding safe on New Year's Day.
Czech and Palestinian investigators are probing the death of ambassador Jamal al-Jamal, although police in Prague said it appeared to be accidental rather than a terror attack.
"The blast was the result of inexpert handling of an explosive," Prague police chief Martin Vondrasek told public radio.
"I can't say specifically what weapons we have found. We can say they have not been registered in the Czech Republic," he added.
"From the very start the police have been working on the version that an explosive system was placed in the safe," police spokeswoman Andrea Zoulova told AFP.
"The question is what it was doing there," she said, but denied a media report the device was a bomb.
"A bomb is nonsense, I definitely wouldn't say that," she said, also refusing to identify the type of unregistered firearms police found at the residence.
The website of mass circulation Respekt weekly quoted unnamed police sources as saying Jamal had probably mishandled a bomb hidden in the safe at his Prague home.
It also said police had found automatic rifles and other illegal weapons that could arm a 10-man combat unit.
According to Zoulova, it was "definitely not standard to have an arsenal of weapons or explosives in such a building".
"This is a question the police are dealing with in the investigations," she said as the police launched criminal proceedings over negligent homicide and illegal arms possession.
Jamal, 56, who had been in the post since October, suffered fatal injuries to his head, chest and stomach in the blast.
An autopsy showed he had died of haemorrhagic shock, Zoulova said. His remains could be sent to the Palestinian territory next week, Czech media reported Thursday.
His 52-year-old wife was treated for smoke inhalation but discharged from hospital on Wednesday.
Palestinian foreign minister Riyad al-Malki described the blast as "an accident".
"The safe was old, and it was made in a way that if it is being opened in a wrong way, an explosive device attached to its door would explode, and this is what happened."
He told Voice of Palestine radio that Jamal had opened the safe "without consulting with anyone" but that no crime had been committed.

'Safe in everyday use'
But Palestinian embassy spokesman Nabil al-Fahel told AFP the safe was in almost everyday use and "according to our information there was no built-in anti-theft system."
Jamal was a member of the ruling Palestinian Fatah party of president Mahmud Abbas.
The Czech Republic is a staunch ally of Israel but Prague has hosted a Palestine Liberation Organisation (PLO) mission since 1981, when it was the capital of Czechoslovakia.
The mission became an embassy in 1988, but in November 2012 the Czech Republic was one of nine countries which voted against the UN General Assembly move to upgrade the Palestinians' status to non-member observer state.
When Jamal began his mission, he asked President Milos Zeman to rescind his controversial call for the Czech embassy in Israel to be moved from Tel Aviv to Jerusalem.
The blast occurred on the eve of a new visit to Israel and the Palestinian territories by US Secretary of State John Kerry to push faltering peace talks.
"I think the Palestinian administration should explain many questions related to the explosion," security expert Andor Sandor, the former head of Czech military intelligence, told AFP.
"First, why do they breach the Vienna Convention setting rules for diplomatic relations and activities, second, why diplomatic immunity is being abused for activities that cannot be considered legal?" he said.
"Another question is whether they have more safes like this on Czech territory, in their flats, and who installs such systems there," Sandor added.
Born in Beirut in 1957, Jamal joined Fatah in 1975 and became an aide to the ambassador in Bulgaria four years later. He moved to Prague as a diplomat in 1984.
After working as Palestinian consul to the Egyptian port city of Alexandria from 2005, he was appointed ambassador to the Czech Republic in October 2013.