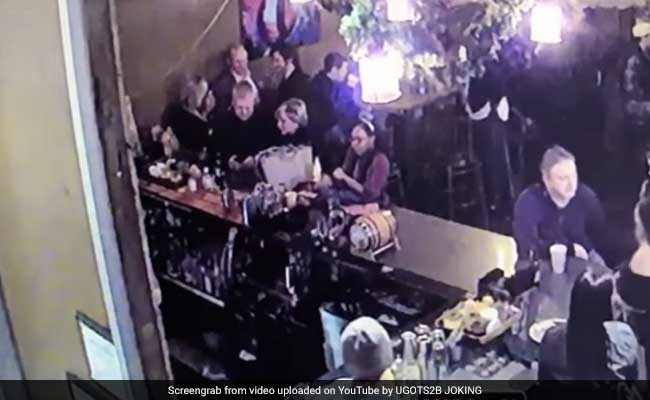 Even without sound, it's clear the man and woman in the grainy surveillance video are upset with one another.
While seated at a bar, the couple's conversation - punctuated by sharp hand gestures - seems to become increasingly animated, until the man reaches out and strikes the woman in the head with a cellphone.
The woman can be seen reaching up and touching her forehead where she was hit, then wiping her face. Some moments later, she appears to strike the man with one hand, then stands up and tosses a drink at his face.
The video, which was publicized last week by several news outlets in Louisiana, finally shows the woman hitting the man with the glass before walking away.
According to the Daily Advertiser, the couple in the video have since been identified as Dwayne Prejean, a now-former police captain with the Lafayette Police Department, and his wife. The altercation allegedly took place New Year's Eve at a local bar, the newspaper reported - and it has caused a stir in the police department in Lafayette, Louisiana, about 130 miles west of New Orleans.
A Lafayette police spokesman said Thursday the department was made aware on Jan. 16 of a domestic incident that had taken place "several days prior."
"Due to the nature of this incident, both an internal investigation and criminal investigation were initiated," the department said in a statement. "The officer was immediately placed and remains on paid administrative leave. Both the internal and criminal investigations are ongoing at this time, with results pending."
On Friday, the department confirmed that Prejean had retired, but said that the criminal investigation into what took place was ongoing, according to KLFY News.
The department has continued to avoid naming the officer involved in the alleged domestic incident at the bar.
Prejean's abrupt departure from the police force turned the spotlight on his tenure at the department, which was not without controversy. In 2016, the Daily Advertiser reported that Prejean had been transferred from his position as the head of the Lafayette Metro Narcotics Task Force - while an assistant district attorney was fired from the 15th Judicial District Court - without elaborating why. At the time, Lafayette's interim police chief said there would be no disciplinary action taken against Prejean and no investigation, the newspaper reported.
In 2014, Prejean was named in a lawsuit filed against the Lafayette Consolidated Government, in which 15 former police officers alleged corruption and retaliation inside the city's police department. A federal appeals court upheld a dismissal of the suit the following year, the Acadiana Advocate reported.
More than a decade ago, a couple named Rubens Mesa and Julieta Tarazona filed a civil suit against Prejean, who was then a Lafayette police officer, alleging that in 2005 Prejean had arrested Tarazona without cause and used excessive force on her. According to court documents, the plaintiffs also alleged that Prejean failed to intervene while other officers caused physical injury to Mesa:
"When Officer Prejean approached Tarazona to place her under arrest, Mesa moved toward him in what Officer Prejean described as an "aggressive manner." At least two officers became involved physically with Mesa while detaining him. As a result, Mesa was bleeding and was taken to the hospital for examination. While Mesa was being restrained, Officer Prejean placed his hand on Tarazona's shoulder near her upper back and neck because he had already used his handcuffs on [another person]. Tarazona perceived the presence of Officer Prejean's hand as a requirement for her to kneel, and Tarazona knelt down. Tarazona testified that, while she thought this manner of arrest was unusual, Officer Prejean did not force her to the ground or otherwise inflict physical harm upon her. Still, she complains that she was injured by Officer Prejean's forcing her to watch the other officers beat her husband, Mesa.
In 2008, an appeals court ultimately ruled in favor of Prejean, saying his "failure to intervene in Mesa's arrest does not amount to a conscious choice to endanger Mesa's constitutional rights."
(Except for the headline, this story has not been edited by NDTV staff and is published from a syndicated feed.)