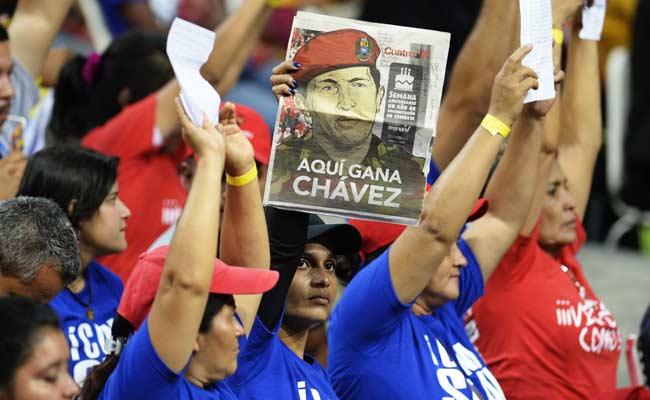 Caracas:
Its leaders have been thrown in jail, banned from politics and remain deeply divided, but Venezuela's opposition nonetheless looks set to bruise President Nicolas Maduro by winning control of the National Assembly.
Sixteen years into late president Hugo Chavez's leftist "revolution," opinion polls indicate the opposition is poised to win legislative elections Sunday for the first time since the firebrand leader came to power.
That is a sign of widespread frustration with the economic mess besieging oil-dependent Venezuela, where spiralling inflation, empty supermarket shelves and long lines have become the norm under Maduro, Chavez's embattled successor.
But it is also a sign that the government's crackdown on the opposition has backfired, said political analysts.
Seven opposition politicians have been banned from politics over allegations of corruption or conspiring to overthrow the government, including popular former lawmaker and presidential candidate Maria Corina Machado.
Another 75 are being held as "political prisoners," the opposition says, including protest leader Leopoldo Lopez, who was sentenced to nearly 14 years in September in a case that drew condemnation from human rights groups and the United Nations.
"The government has been badly damaged by its own aggressive strategy," said political scientist Elsa Cardozo of Simon Bolivar University.
The opposition coalition, the Democratic Unity Roundtable (MUD), heads into the elections leading the ruling United Socialist Party of Venezuela (PSUV) and its allies by as much as 35 percentage points, according to one poll.
Founded in 2009 with the goal of defeating Chavez, MUD is a motley group of some 30 parties from across the political spectrum, with no real leader.
The coalition, which has always struggled with its own internal divisions, has gotten a counterintuitive boost from the authorities' harsh treatment, especially Lopez's jailing, said Luis Vicente Leon, head of polling firm Datanalisis.
"The government made a mistake (in the Lopez case). It made him into a martyr, which motivates people to vote," Leon told AFP.
Strength in adversity
Lopez, a 44-year-old economist with a master's degree from Harvard, was the most visible leader of massive protests that shook Venezuela last year and left 43 people dead.
At the time of his arrest on charges of inciting violence, his radical strategy of forcing Maduro from power through protests was rejected by some in MUD, including the coalition's candidate in the past two presidential elections, Henrique Capriles.
But by jailing Lopez, the government rallied support around him, said Leon, who called Venezuela "a 'Chavista' country (that) is disgruntled with Maduro."
Many Venezuelan voters still harbor lingering loyalty to Chavez, who ruled from 1999 until his death of cancer in 2013 and used the oil giant's crude revenues to fund a populist economic model he called "21st-century socialism."
But as Maduro has struggled to address dwindling oil revenues and other economic woes, his own popularity has plunged to around 22 percent.
Given the widespread frustration, the opposition has not needed to run a high-octane campaign, and the lack of well-known names among its candidates does not appear to be hurting it.
The PSUV has even attacked it for being too invisible.
"They haven't campaigned. Their candidates are in hiding. No one knows them," said PSUV campaign chief Jorge Rodriguez.
New troubles ahead
The authorities' treatment of the opposition has however propelled it into the spotlight, including on the international stage.
With Lopez locked up in solitary confinement at a military prison outside Caracas, his wife, Lilian Tintori, has met US Secretary of State John Kerry, Pope Francis and Spanish Prime Minister Mariano Rajoy.
"All this has boosted the opposition's international visibility," said Leon.
But beyond a shared call for "change," not much unites the opposition, said Latin America expert Jean-Jacques Kourliandsky of French international relations institute IRIS.
"Aside from that, there's little in common between its members, who cover the political terrain from one extreme to the other," he said, adding that MUD's unity will be difficult to sustain if it wins the elections and has to share power with a hostile president.
Victory, he said, "will also mean an even more difficult situation to manage."