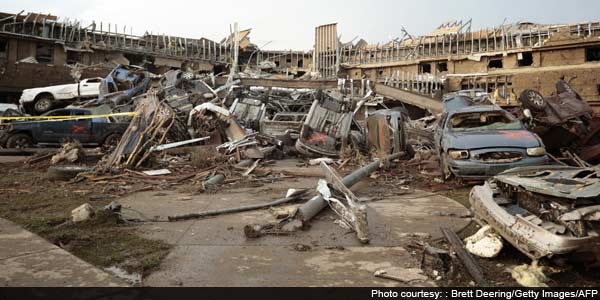 Moore (Oklahoma):
A giant tornado, a mile or more wide, killed at least 91 people, 20 of them children, as it tore across parts of Oklahoma City and its suburbs Monday afternoon, flattening homes, flinging cars through the air and crushing at least two schools.
The injured flooded into hospitals, and the authorities said many people remained trapped, even as rescue workers struggled to make their way through debris-clogged streets to the devastated suburb of Moore, where much of the damage occurred.
Amy Elliott, the spokeswoman for the Oklahoma City medical examiner, said at least 91 people had died, including the children, and officials said that toll was likely to climb. Hospitals reported at least 145 people injured, 70 of them children.
Plaza Towers Elementary School in Moore was reduced to a pile of twisted metal and toppled walls. Rescue workers were able to pull several children from the rubble, but on Monday evening crews were still struggling to cut through fallen beams and clear debris amid reports that dozens of students were trapped. At Briarwood Elementary School in Oklahoma City, on the border with Moore, cars were thrown through the facade and the roof was torn off.
"Numerous neighborhoods were completely leveled," Sgt. Gary Knight of the Oklahoma City Police Department, said by telephone. "Neighborhoods just wiped clean."
He said debris and damage to roadways, along with heavy traffic, were hindering emergency responders as they raced to the affected areas.
A spokeswoman for the mayor's office in Moore said emergency workers were struggling to assess the damage.
"Please send us your prayers," she said.
Brooke Cayot, a spokeswoman for Integris Southwest Medical Center in Oklahoma City, said 58 patients had come in by about 9 pm. An additional 85 were being treated at Oklahoma University Medical Center in Oklahoma City.
"They've been coming in minute by minute," Cayot said.
The tornado touched down at 2:56 p.m., 16 minutes after the first warning went out, and traveled for 20 miles, said Keli Pirtle, a spokeswoman for the National Weather Service in Norman, Okla. It was on the ground for 40 minutes, she said. It struck the town of Newcastle and traveled about 10 miles to Moore, a populous suburb of Oklahoma City.
Pirtle said preliminary data suggested that it was a Category 4 tornado on the Enhanced Fujita scale, which measures tornado strength on a scale of 0 to 5. A definitive assessment will not be available until Tuesday, she said.
Moore was the scene of another huge tornado, in May 1999, in which winds reached record speeds of 302 mph, and experts said severe weather was common in the region this time of year. But the region has rarely had a tornado as big and as powerful as the one Monday.
Television on Monday showed destruction spread over a vast area, with blocks upon blocks of homes and businesses destroyed. Residents, some partly clothed and apparently caught by surprise, were shown picking through rubble. Several structures were on fire, and cars had been tossed around, flipped over and stacked on top of each other.
Kelcy Trowbridge, her husband and their three young children piled into their neighbor's cellar just outside of Moore and huddled together for about five minutes, wrapped under a blanket as the tornado screamed above them, debris smashing against the cellar door.
They emerged to find their home flattened, and the family car resting upside down a few houses away. Trowbridge's husband rushed toward what was left of their home and began sifting through the debris, then stopped, and told her to call the police.
He had found the body of a little girl, about 2 or 3 years old, she said.
"He knew she was already gone," Trowbridge said. "When the police got there, he just bawled."
She said: "My neighborhood is gone. It's flattened. Demolished. The street is gone. The next block over, it's in pieces."
Sarah Johnson was forced to rush from her home in Moore to the hospital as the storm raged when her 4-year-old daughter, Shellbie, suffered an asthma attack. With hail raining down, she put a hard hat on her daughter as she raced into the emergency room and hunkered down.
"We knew it was coming - all the nurses were down on the ground so we got down on the ground," Johnson said from the Journey Church in nearby Norman, where she had sought shelter.
At the hospital, she said, she shoved her daughter next to a wall and threw a mattress on top of her. After the storm passed, debris and medical equipment were scattered around, she said.
Johnson said she and her daughter were safe, but she had yet to find her husband.
The storm system continued to churn through the region on Monday afternoon, and forecasters warned that new tornadoes could form.
An earlier storm system spawned several tornadoes across Oklahoma on Sunday. Several deaths were reported.
Russell Schneider, the director of the National Oceanic and Atmospheric Administration's Storm Prediction Center in Norman, said the risk of tornadoes throughout the region remained high going into Tuesday.
Some parts of Moore emerged seemingly untouched by the tornado. Bea Carruth, who lives about 20 blocks from where the storm struck, said her home and others in her neighborhood appeared to be fine.
Carruth had ridden out the tornado as she usually does, at her son's house nearby, the hail pounding on the cellar where they had taken shelter. Tornadoes have long been a part of life in Moore, she said, and a few times a year, in a well-worn ritual, she goes into her son's cellar when the sirens go off.
As devastating as the tornado was, the quick thinking of some prevented the death toll from going higher.
When the tornado sirens went off around 2:15, the staff of the AgapeLand Learning Center, a day care facility, hustled some 15 children into two bathrooms, draping them with a protective covering and singing songs with them to keep them calm.
As the wind ripped the roof off one of the bathrooms, and debris rained down on the children, they remained calm, singing "You Are My Sunshine," the assistant director, Cathy Wilson, said.
Although the day care center was almost entirely destroyed, the children were unharmed.
"Not a child had a scratch," Wilson said.
(Leslie Metzger and Kathleen Johnson contributed reporting from Norman, Oklahoma, and Dan Frosch from Denver.)
© 2013, The New York Times News Service