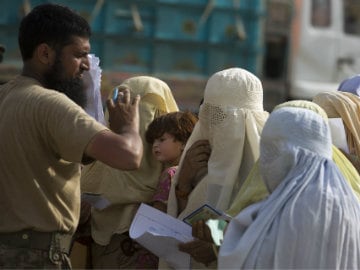 Lyon, France:
The large cases of polio virus in Pakistan pose a threat to its neighbours such as India, the world's leading polio vaccine manufacturers has warned.
Sanofi Pastuer, headquartered at the French city of Lyon, hailed India's milestone as a polio-free country but warned that the control remains fragile until the region can meet the World Health Organisation (WHO) target of a polio-free world by 2018.
"The situation in Pakistan is of concern and the situation seems to have deteriorated. The political unrest in the region makes vaccination extremely difficult and under the circumstances the WHO's eradication target of 2018 will be difficult to meet," Emmanuel Vidor, Global Medical Expert at Sanofi Pasteur, told reporters during a tour of the company's hi-tech vaccine manufacturing facilities here.
WHO in May advised Pakistan, Syria and Cameroon to put in place emergency travel measures as they pose the greatest risk of exporting the virus and undermining a UN plan to eradicate polio by 2018.
India was among the biggest four remaining polio endemic countries but in February this year it marked three years without a case of polio.
"India's is a big achievement and we must collectively build on it. The key is combined administration of the oral polio vaccine (OPV) and inactivated polio vaccine (IPV) and eventually moving to an IPV only regime under the WHO guidelines," Vidor said.
Pakistan is one of only three countries in the world where polio is still endemic but efforts to stamp out the crippling disease have been hit by repeated attacks on health teams, derailing the polio vaccination campaign.
This year, Pakistan has reported 84 polio cases. According to the World Health Organisation, 80,000 children in Pakistan have not been immunised against polio. For many years, the Taliban and some hardliner clerics had been claiming that polio vaccination was a conspiracy to suppress Muslim population growth.
Sanofi Pasteur was among the key suppliers of the vaccines that helped India achieve that target of a polio-free country.
"Our vision is that no one should suffer or die of a vaccine preventable disease. We are the main supplier of OPV for Unicef and have taken effective steps to scale up the production of IPV in support of the WHO's worldwide polio eradication programme," explained Sanofi Pasteur global communications chief Julien Guyomard.