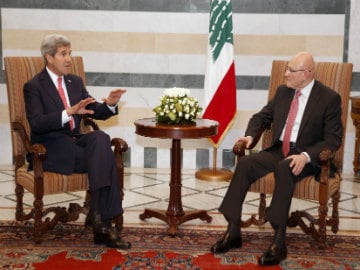 Beirut, Lebanon:
US Secretary of State John Kerry is calling for an end to the political stalemate in Lebanon, saying it is "deeply troubling" at a time of instability in the region.
He said Wednesday that Lebanon needs "a government that is free of foreign influence with a fully empowered president," especially with the chaos in neighboring Syria that has sent an influx of refugees into Lebanon.
Kerry also announced new U.S. aid - $290 million for United Nations agencies working on the Syrian refugee issue throughout the region.
The secretary of state was in Beirut to show support for the country's government and press officials to deal with the political crisis that has left the country without a president since last month.