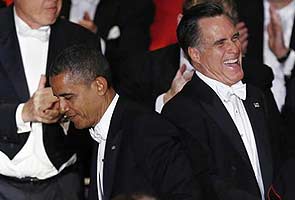 Mentor, Ohio:
President Barack Obama and Republican rival Mitt Romney embarked on the final stretch of their long, grinding presidential campaign on Saturday, making their closing arguments in the handful of battleground states that will decide the outcome of a tight race that is going down to the wire.
National opinion polls showed a race for the popular vote so close that only a statistically insignificant point or two separated the two rivals. Soundings in the nine battleground states tightened after Obama's poor performance in the first presidential debate, on Oct. 3, and stayed that way.
Yet Republicans quietly acknowledged that Romney had so far been unable to achieve the breakthroughs needed in such key swing states as Ohio, where polls show the Republican trailing by several percentage points. No Republican has ever been elected president without carrying Ohio.
That leaves Romney with the tougher path to reach the required 270 electoral votes. He must win more of the nine most-contested states that are not reliably Republican or Democratic: Ohio, Florida, Virginia, North Carolina, Colorado, Nevada, Wisconsin, Iowa and New Hampshire.
About 27 million Americans already have cast ballots in early voting in 34 states and Washington, D.C. On the last day of early voting in Florida, voters at some sites in Miami-Dade and Broward counties were waiting up to four hours to cast ballots. Democratic Sen. Bill Nelson asked his state's Republican governor to extend early voting at least through Sunday, citing "an untold number of voters being turned away or becoming too discouraged to vote."
Obama tended to presidential business before leaving Washington Saturday as he led a briefing at the government's disaster relief agency on the federal response to Superstorm Sandy. He said the recovery effort still has a long way to go but pledged a "120 percent effort" by all those involved.
"There's nothing more important than us getting this right," Obama said, keenly aware that a spot-on government response to the storm also was important to his political prospects. Then he began his own three-state campaign day in Ohio, the biggest battleground of Campaign 2012.
After holding mostly small and mid-size rallies for much of the campaign, Obama's team is planning a series of larger events this weekend aimed at drawing big crowds in battleground states. Still, the campaign isn't expecting to draw the massive audiences Obama had in the closing days of the 2008 race, when his rallies drew more than 50,000.
Obama's closing weekend also includes two joint events with former President Bill Clinton: a rally on Saturday night in Virginia and an event Sunday in New Hampshire.
Romney hosted a massive rally Friday night in West Chester, Ohio, drawing more than 10,000 people to the Cincinnati area for an event that featured rock stars, sports celebrities and dozens of Republican officials. It was a high-energy event on a cold night designed to kick off his own sprint to the finish.
After his morning rally on the New Hampshire seacoast, he had an afternoon appearance in Iowa, and two more in Colorado. He shifted an original plan to campaign in Nevada on Sunday in favour of a schedule likely to bring him back to Iowa, Ohio, Pennsylvania and Virginia.
Aides stress that Romney's schedule is fluid and may change with little notice as they evaluate where his time is best spent.
Romney began Saturday in New Hampshire by faulting Obama for telling supporters a day earlier that voting would be their "best revenge".
"Vote for 'revenge?'" the Republican candidate asked, oozing incredulity. "Let me tell you what I'd like to tell you: Vote for love of country. It is time we lead America to a better place."
The Republican nominee released a TV ad carrying the same message.
Obama campaign spokesman Jennifer Psaki said the president's revenge comment was nothing more than a reminder that if voters think Romney's policies are "a bad deal for the middle class, then you have power, you can go to the voting booth and cast your ballot."
Obama's Saturday itinerary had him heading from Ohio to Milwaukee and Dubuque, Iowa, and ending the day in Bristow, Virginia. On Sunday, he was taking his campaign to New Hampshire, Florida, Colorado and, yes, Ohio.
At his first stop Saturday in Mentor, Ohio, Obama offered a final reminder that Tuesday's election is "not just a choice between two candidates or two parties, it's a choice between two different visions for America." The president offered himself as the candidate voters can trust, renewing his criticism of Romney for what he said were misleading ads suggesting that automakers were shifting US jobs to China.
Under the US system, the nationwide popular vote does not determine the winner. Romney and Obama are actually competing to win at least 270 electoral votes in state-by-state contests. Those electoral votes are apportioned to states based on a mix of population and representation in Congress.
Romney and his allies sought to expand the political map by making a play for Pennsylvania, hoping to end a streak of five presidential contests where the Democratic candidate prevailed in the state.
Obama won Pennsylvania by more than 10 percentage points in 2008; the latest polls in the state give him a 4 to 5-point margin. Romney will campaign in the Philadelphia suburbs on Sunday. Obama aides scoff at the Romney incursion, but they are carefully adding television spending in the state and are sending Clinton to campaign there Monday.
The final frenzy of campaigning comes in the wake of Superstorm Sandy that has dominated much of the news coverage for the past several days as New York, New Jersey and Connecticut recover from the brunt of its force.
Friday offered an economic finale to the campaign with the release of October jobs reports that contained better than average economic news but gave both campaigns a talking point. Employers added a better-than-expected 171,000 jobs last month, but the jobless rate ticked up to 7.9 per cent from 7.8 per cent - mainly because more people jumped back into the search for work.
The economy has trumped all other issues in a campaign carried out in the shadow of slow growth, high unemployment and huge federal deficits.
"The question of this election is, 'Do you want four years of the same or do you want real change?'" Romney asked an audience in West Allis, Wisconsin, on Friday. Romney, the former CEO of a private equity firm, said, correctly, that unemployment is higher than when Obama took office, and he contended the president would fail to improve the economy with a second term.
Obama countered that more than 5 million jobs have been created since the depths of the Great Recession. He ended the campaign as he began it, insisting the election wasn't a referendum on his performance in office, but a choice between him and his rival. It's "between going back to the top-down policies that crashed our economy or adapting the kinds of policies that will make sure we've got a strong and growing middle class," the incumbent said Friday in Hilliard, Ohio.
Obama will face voters with the highest unemployment rate of any incumbent since Franklin Roosevelt during the Great Depression of the 1930s.
While Friday's jobs report was unlikely to affect the election outcome, it brought the economy back into the national conversation in a country still preoccupied with the devastation wrought by Superstorm Sandy on the US East Coast.
Obama paused his campaigning for three days this week to manage the federal response to the natural disaster. Romney muted criticism of the president during those days for fear of appearing to seek political advantage while Americans were suffering, and his campaign watched awkwardly as a once-prominent Obama critic, New Jersey's Republican Gov. Chris Christie, praised the president and toured storm damage with him.
In crucial early voting, Obama holds an apparent lead over Romney in key states. But Obama's advantage isn't as big as the one he had over John McCain four years ago, giving Romney hope that he could make up that gap in Tuesday's election.
No votes will be counted until Election Day, but several battleground states are releasing the party affiliation of people who have voted early. So far, Democratic voters outnumber Republicans in Florida, Iowa, Nevada, North Carolina and Ohio. Republicans have the edge in Colorado.