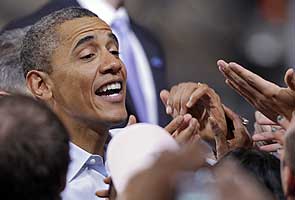 New Jersey:
A Himalayan spread awaits US President Barack Obama on May 14 in New York City as he prepares to launch his re-election campaign in earnest. Mr Obama and other dignitaries will partake the Himalayan delicacies at a fund-raiser event at the Rubin Museum of Art, with the food prepared by Michelin-starred Indian-origin chef Vikas Khanna.
Much of the spread being laid out at the dinner, where getting a chair costs US $ 35,800, is being kept under wraps, but Mr Khanna said the signature dish would be Ema Dashi, the national delicacy of Bhutan.
"I am looking forward to serve Ema Dashi, which is a national delicacy in Bhutan. But I'm going to be preparing it in my signature style. The rest of the menu is going to remain a surprise," said Mr Khanna.
The Amritsar-born Master Chef said: "I've carefully researched and selected each dish to ensure that it is a tribute to the beauty, culture, arts and people of the Himalayas."
He has written a series of books on Indian food and serves fusion cuisine at his New York restaurant Junoon. "During my travels to the mountains, I discovered varied spectacular cuisines ranging from Kashmiri to Nepalese and Bhutanese to Tibetan," he said.
The menu is a tribute to the cuisine of the Himalayan region, and its beauty, culture and people," Mr Khanna said, adding "Good food is all about the perfect flavour, and that's the essence of the book."
"The entire Himalayan stretch has some wonderful cuisines. Besides, The Rubin Museum of Art, where the dinner is being hosted, houses some of the most beautiful collections from that region, so I thought why not!" he said, adding that he will however give his signature twist to the regional cuisine.