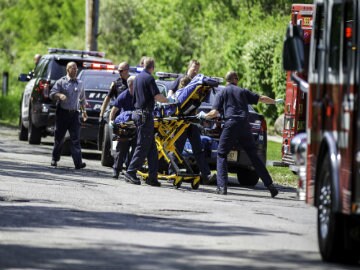 Milwaukee, Wisconsin:
A 12-year-old girl accused of plotting to kill a friend to curry favor with a fictional Internet character shows signs of mental illness and should be in a hospital, her defense attorney said Tuesday.
The girl and another 12-year-old have been charged as adults with first-degree attempted homicide in a stabbing that nearly killed another child the same age. The two girls told investigators they plotted for months to kill their friend because a character called Slenderman required them to kill someone before they could become his "proxy."
The girls told investigators they read about Slenderman on the horror website creepypasta.wikia.com. It's not clear whether they got access to the website at home or at school, but a school administrator said employees were reviewing various websites to see if they should be blocked after the stabbing.
Both girls are being held at a juvenile detention center. Anthony Cotton, the attorney for one girl, said a judge rejected his request Monday to have the girl transferred to a mental health facility, but he will renew that request when she returns to court next week. Cotton said the girl's parents are trying to figure out whether there were any signs they may have missed. But he said some things, such as make-believe, would not necessarily be alarming in a child.
According to court documents, the girls told investigators they invited their friend to a sleepover at one of their houses on Friday and planned to duct tape her mouth while she was sleeping, stab her in the neck, put the covers over her to make it look like she was sleeping and run away to Slenderman's mansion.
They backed out of that plan, deciding to kill her on Saturday in a nearby park bathroom so blood would go down the drain. They convinced the girl to go to the park with them and got her into the bathroom. One of the girls handed the knife to the other but she couldn't bring herself to stab the victim, she said. She gave the knife back to the other girl but she couldn't go through with it either, the complaint said.
They went into the woods, where one girl pushed the victim down and sat on her. The girls then traded the knife back and forth between them before one of them finally tackled the victim again and began stabbing her, according to the complaint.
The girls left the victim lying in the woods. She crawled to a road where a bicyclist found her lying on the sidewalk. Police arrived and she gave them the name of one of the girls who attacked her.
Both girls were charged Monday in a court outside Milwaukee; they each face up to 65 years in prison if convicted. A court commissioner set bail at $500,000 cash per child.