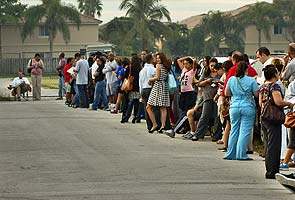 Washington:
White House rivals Barack Obama and Mitt Romney picked up early wins in states traditionally loyal to their parties on Tuesday but key swing states like Virginia and Ohio remained too close to call.
Using a mix of exit polls and early partial results, US television news networks projected victories for Republican flag-bearer Romney in Indiana, Kentucky, South Carolina and West Virginia - safe targets he was expected to mop up.
President Obama, the Democratic incumbent, picked up Vermont.
Polls also closed in Georgia, Ohio and Virginia, although officials allowed polling to continue where there were long lines.
Networks said Virginia - which Obama won when he was first elected in 2008 and which would be vital in almost any Romney victory strategy - was too close to call, based on early exit polls and a small number of reported results.
The final opinion polls published before voting began showed the two candidates in a dead heat nationwide, but gave Obama a slight advantage in the handful of swing states like Virginia and Ohio that will decide the race.
Each state has a quota of electoral college votes based on its population, and the eventual victor will be the candidate who tallies the most.