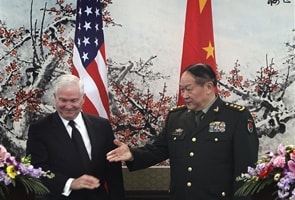 Beijing:
The US and Chinese defense chiefs have taken a step toward mending frayed relations between their powerful militaries after meeting in Beijing.
US Defense Secretary Robert Gates and Chinese Defense Minister Liang Guanglie agreed after a morning of talks Monday to set up working group to explore a dialogue on strategic issues.
The agreement marks an end to a rocky year in which Beijing cut off defense ties with the United States over arms sales to Taiwan, the democratic island that China claims. But it falls short of putting the divisive issue behind the two powers.
General Liang would not guarantee another rupture in ties in the future if the US ignores Chinese interests.