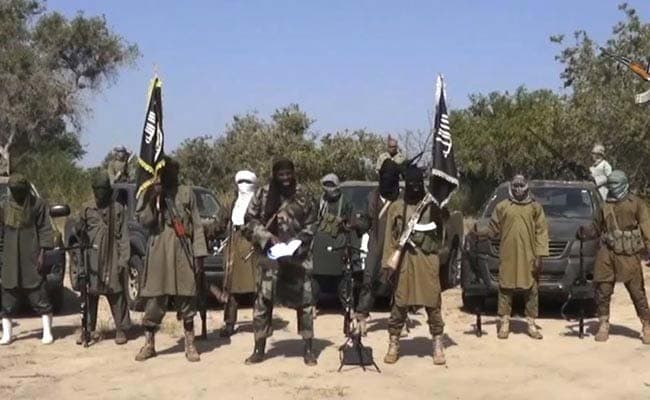 Kano, Nigeria:
Up to 150 people drowned in a river or were shot dead fleeing Boko Haram gunmen who raided a remote village in Nigeria's northeastern Yobe state, residents said on Tuesday.
Dozens of militants arrived on motorcycles and in a car on Thursday last week and sprayed automatic gunfire, scattering terrified inhabitants of Kukuwa-Gari.
"They opened fire instantly, which forced residents to flee. They shot a number of people. Unfortunately many residents who tried to flee plunged into the river which is full from the rain. Many drowned," Modu Balumi, a resident of the village, told AFP.
"By our latest toll we have 150 people either (shot dead) or drowned in the attack. The gunmen deliberately killed a fisherman who tried to save drowning residents of the village."
Balumi said the bodies of many of the drowned were picked out by locals several kilometres away.
News of the attack was slow to emerge because the militants have destroyed telecom masts around the village, about 50 kilometres (30 miles) from Yobe State capital Damaturu, since the insurgency began in 2009.
"Most residents, particularly women and children, ran towards the river in confusion,"said Bukar Tijjani, another villager, who confirmed the death toll.
"They were pursued by the gunmen who kept firing at them. In the frantic effort to escape they jumped into the river, which was full to the brim."
A local government official confirmed the attack but put the death toll much lower, at around 50.
Massacre
The higher count would constitute the largest loss of life in any single Boko Haram attack since President Muhammadu Buhari swept to power on May 29, vowing to crush the insurgency.
The ambush came during the region's peak rainy season, when most waterways in northeastern Nigeria are swollen and can flow with dangerous speed.
The village was still reeling from a raid by suspected Boko Haram militants on July 31 when at least 10 people were killed by gunmen who burned homes, food silos and livestock.
The Gujba area of Yobe state, where Kukuwa-Gari village is located, has been hit hard by Boko Haram violence in the past but had seen relative calm since troops reclaimed it in March.
In September 2013 scores of students of an agricultural college in the area were massacred as they slept in their dormitories.
In February last year dozens of students of a boarding secondary school in the main town of Buni Yadi were also killed in a gun attack on their hostels.
Boko Haram claimed responsibility for both attacks.
The jihadist militia, which has pledged allegiance to the Islamic State group, has waged a violent campaign for a separate Islamic homeland in the northeast which has seen more than 15,000 deaths since 2009.
Ryan Cummings, chief security analyst at South African consultancy Red 24 and an expert on the Nigerian insurgency, said the Kukuwa-Gari attack underlined that victory against the Islamists could not be defined by territorial control.
Many areas liberated by the army were more than likely abandoned by Boko Haram who preferred not to engage troops in conventional warfare, he said.
Suicide attacks
"Consequently, while localities such as Kukuwa-Gari have been reclaimed from rebel hands, Boko Haram continues to possess both the intent and operational capacity to execute attacks against these settlements," he told AFP.
"Furthermore, what the Nigerian army is witnessing now is that snapshot operations to liberate civilian populations is a much easier task than actually securing communities from the ever-present threat of further attacks."
The military under Buhari's predecessor Goodluck Jonathan was heavily criticised for poor handling of the insurgency and its failure to free more than 200 schoolgirls abducted from the northeastern town of Chibok in April last year.
Since Buhari took office, the militants have stepped up their campaign with a wave of raids, bombings and suicide attacks which have left more than 1,000 people dead in Nigeria alone, according to an AFP count.
The Islamists have also carried out deadly ambushes across Nigeria's borders and in recent weeks suicide bombers, many of them women, have staged several attacks in Nigeria, Cameroon and Chad.
Nigeria's new leader replaced his military chiefs last week, ordering them to end the insurgency within three months, and a five-nation regional force of 8,700 troops from Nigeria and its neighbours is expected to deploy imminently.
Chadian leader Idriss Deby declared on August 12 that efforts to combat Boko Haram had succeeded in "decapitating" the group and that its fearsome leader Abubakar Shekau had been replaced by a commander open to negotiations.
But Shekau dramatically rebuffed the claim in an audio recording released on Sunday and authenticated by security analysts, dismissing the Chadian head-of-state as a "hypocrite" and a "tyrant".