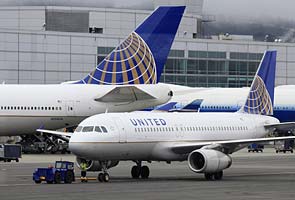 New York:
Thousands of United Airlines passengers around the globe were delayed for hours on Thursday after another huge computer outage at the world's largest carrier.
The outage lasted for about two hours in the morning, affecting half of all flights on United's main network. It was at least the third major outage for the Chicago-based airline since June.
Major delays across the world, especially those early in the morning, can easily ripple throughout an airline's network. United runs about 5,500 flights a day worldwide.
During the system failure, some furious passengers vented their anger on social media sites.
"Does anyone have a Radio Shack computer or abacus to help United get their system fixed?," tweeted Lewis Franck, a motorsports writer who was flying from Newark, New Jersey, to Miami Thursday to cover the last race of the NASCAR season.
In a subsequent phone call with The Associated Press, Franck added: "Why is there a total system failure on a beautiful day? What happened to the backup and the backup to backup?"
United Continental Holdings Inc. spokesman Rahsaan Johnson said the outage didn't affect its regional flights on United Express. He said only those airplanes that came from the former United were affected.
United has been struggling with technology problems since March, when it switched to a passenger information computer system that was previously used by Continental, the airline it merged with in 2010. That system, called "Shares," has needed extensive reworking since March to make it easier for workers to use.
Passengers by midmorning reported that pilots and gate agents told them that a backup system was allowing some flights to take off. Earlier, fliers were told by pilots and airport agents that computers were down and they didn't know when the system would come back.