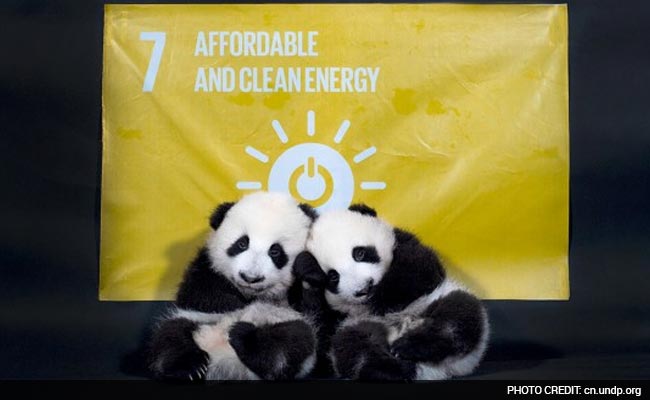 Beijing:
China today showed 13 baby pandas, including six sets of twins, born this year to the public for the first time in Chengdu city while the UNDP appointed twin panda cubs as its image ambassadors.
The little pandas appeared at "Discovering Twin Cubs", jointly arranged by the United Nations Development Program (UNDP) and the Chengdu Research Base of Giant Panda Breeding to call on panda fans and people across the world to protect wild animals and plants such as pandas.
Patrick Haverman, deputy country director at UNDP, attended the event and declared that twin cubs born to Qinhe, a 14-year-old panda, in September have been designated as the image ambassadors of the UNDP.
Haverman also solicited names for the twins from panda fans around the world. The other five pairs of twins are also waiting to be named by fans.
In 2015, a total of 15 panda cubs, including the 12 twins, were born in the Chengdu research base, a new record.
Although experts are not sure about the exact reason for the success of the birth of so many twins, Hou Rong, a member of the base staff, guessed that it might be related to better feeding and management in the breeding centre, state-run Xinhua news agency reported.
Less than 2,000 pandas live in the wild, mostly in the provinces of Sichuan and Shaanxi. There are around 400 in captivity.
Giant pandas have a very low fertility rate because they are sexually inactive. Female pandas become pregnant only once a year and deliver at most three cubs.
The fertility of captive giant pandas is even lower because they do not move much, experts said.