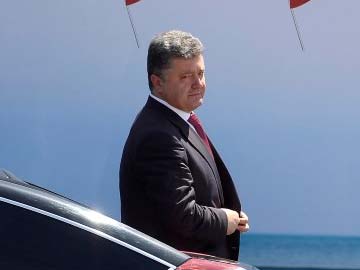 Kiev:
Petro Poroshenko will be sworn in on Saturday as Ukraine's president, buoyed by messages of support from the West but still seeking a strategy to deal with Russia's Vladimir Putin, who opposes Kiev's military drive against pro-Russian separatists.
Government forces are almost certain to be fighting rebel fighters in the east even as Poroshenko takes the oath of office and delivers his inaugural speech. Kiev began an intensified campaign against the rebels the morning after Poroshenko's May 25 election, and the fighters have fought back, turning parts of the east into a war zone.
The billionaire confectionary magnate, 48, will be Ukraine's fifth president since independence and its first since 1991 to win election with more than half the vote in a single round, after promising to bridge the east-west divide that has split the country and thrust it into a battle for its very survival.
Western governments and Russia, locked in a geopolitical fight over Ukraine's future, will be watching for clues on how he intends to handle the eastern rebellions.
Poroshenko says he wants closer relations with Europe, and won support and encouragement for his policies to stabilise Ukraine when he met U.S. President Barack Obama and European leaders in Poland and France this week.
He also briefly met Putin in France during ceremonies marking the World War Two D-Day landings on Friday, and may have discussed a possible ceasefire with the rebels. Putin said he welcomed Poroshenko's plans to stop the bloodshed, but Ukraine must stop its "punitive" military operation.
Russia rejects charges by Kiev and the West that it is actively supporting the rebels in the Russian-speaking east. The fighting since Poroshenko's election has revealed that many of the rebels are from Russia, with dozens of dead bodies of fighters sent back across the frontier.
In a small sign of a thaw, Moscow is sending its ambassador - withdrawn after pro-Russian President Viktor Yanukovich was toppled in February - back to Kiev to attend the swearing in. Moscow has also begun withdrawing some of the tens of thousands of troops it had massed on the frontier.
TUMULTUOUS PERIOD
Ukrainians hope Poroshenko's election brings an end to the most tumultuous period in Ukraine's 22 years of independence.
More than 100 people were shot dead by police in Kiev in January and February in protests against the Moscow-leaning Yanukovich. After Yanukovich was ousted and fled to Russia, Putin declared Russia's right to intervene by force in Ukraine.
Moscow quickly annexed Ukraine's Crimea peninsula in March and massed troops on the border, while separatists occupied towns and strategic points across the east. Scores of people have since been killed in fighting.
The uprising in the east is not the only challenge facing Poroshenko, who inherits a country on the verge of bankruptcy, still dependent on Russia for natural gas and rated by watchdogs as one of the most corrupt and ill-governed states in Europe.
Poroshenko, who won election on the slogan "Live in a new way", is expected to lay out a programme for rolling back the sleaze of the Yanukovich years, during an open-air speech in Kiev after taking the oath.
Poroshenko served in cabinets under both Yanukovich and the ousted leader's foes, giving him a reputation for pragmatism that most Ukrainian voters saw as offering a chance to heal divisions. He won nearly 55 percent of the vote in a field of 21 candidates, against less than 13 percent for his closest rival.
He was also the first Ukrainian presidential candidate since 1991 to win both in the mainly Ukrainian-speaking west and in the Russian-speaking east, despite the separatists having prevented most voting in two eastern provinces where they have declared independent "people's republics".
Though he will stand firm in saying he will have no truck with the men of violence, Poroshenko may seek, in his speech, to address the grievances of ordinary people in the east and put an accent on the need for reconciliation and national dialogue.
He will try to ally fears in the east - relentlessly stoked by Russian media - that Kiev's new rulers will launch a nationalist drive against their use of the Russian language.
He may also lay out plans for decentralisation to give local authorities in the east greater say by allowing them to keep a proportion of taxes for regional development.
Despite his commitment to European integration, diplomats believe Poroshenko might make a trip soon to Moscow to try to find a compromise to end the fighting. But on the ground in the east, people expect more battle.
In Izvaryne, about 70 km (43 miles) from Luhansk on the Russian border, some people were leaving the area because they feared the violence was just beginning, and things would get worse after Poroshenko's inauguration.
"We got all our documents together as fast as we could to leave before the inauguration. We think there may be an emergency military rule after that," Ekaterina Sarkisova, 30, who was travelling with her five-month-old son, seven-year-old daughter and husband.
© Thomson Reuters 2014