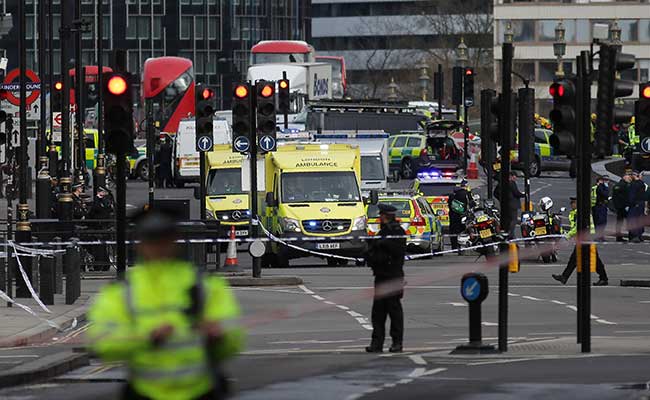 Highlights
A car ploughed into several people near London's Westminster Bridge
The police said they are treating the situation as a terror incident
Foreign Minister Sushma Swaraj said no Indians were reported to be hurt
London:
The British parliament was locked down on Wednesday after an attack was reported near it, in the heart of London, after 2:30 pm local time. Eyewitnesses said a black car ploughed into several people near the Westminster Bridge and crashed into the railings of the Palace of Westminster. A man got out with two 8-inch knives and attacked a policeman with what appeared a large knife or a machete before being shot down by the police. Five people including the police officer and the attacker are dead and around 40 people have sustained injuries. No Indians have been hurt in the incident, Foreign Minister Sushma Swaraj tweeted.
Here are the 10 latest developments in this big story:
The police said they are treating the situation as a terror incident. Prime Minister Theresa May and hundreds of parliamentarians were safely evacuated. The parliament will convene at the usual time on Thursday.

Eyewitnesses say the attacker who tried to access parliament was a middle aged man. London Police say that they believe there was only one attacker, refuting earlier reports that they were on the lookout for another man.

Scotland Yard said an investigation has been launched by the counter terrorism command. Britain is on its second-highest alert level of "severe" meaning an attack by terrorists is considered "highly likely".

From inside parliament, Labour lawmaker Keith Vaz told NDTV, "We are all locked in a chamber in the House of Commons, they have sealed the doors and we cannot get out". Lawmakers were later evacuated to safety.

Three French schoolchildren aged 15 or 16 were among those injured in the attack, French officials said. Some of the injured are being treated for "catastrophic" injuries, British news agency Press Association reported.

At the Westminster Bridge, the attacker's car had apparently mounted the pavement and mowed down people and then crashed into the railings outside parliament.

Photographs from Westminster Bridge showed people lying on the ground. Some of them were bleeding heavily and one was apparently under a bus.

The police asked the people to stay away from the nearby areas, including Parliament Square, Whitehall; Westminster Bridge, Lambeth Bridge, Victoria Street up to the junction with Broadway and the Victoria Embankment up to Embankment tube.

Leaders from across the world have condemned the attack. US President Donald Trump tweeted, "spoke to U.K. Prime Minister Theresa May today to offer condolences on the terrorist attack in London. She is strong and doing very well." Prime Minister Narendra Modi said he is "deeply saddened by the terror attack in London. Our thoughts and prayers are with the victims and their families. At this difficult moment, India stands with UK in the fight against terrorism."

The attack took place on the first anniversary of attacks by Islamist terrorists that killed 32 people in Brussels.
The Indian High Commission released the following numbers to assist Indians after the attack: 020 8629 5950 and 020 7632 3035