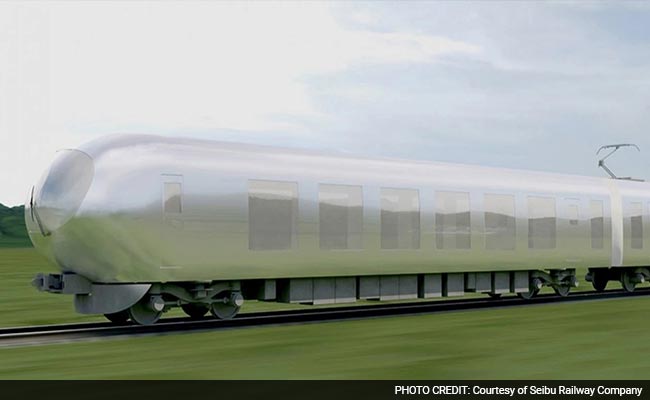 Tokyo:
Japanese trains are already a source of wonder, with their speed and punctuality and cleanliness. But one Japanese architect is trying to take them to the next level by making trains that are almost invisible.
Seibu Railway Company, which runs trains connecting western and northern parts of Tokyo, asked Kazuyo Sejima, a winner of the Pritzker Architecture Prize who is renowned for her modernist glass buildings, to come up with a train design "like nothing seen before."
Sejima's most famous buildings include the Toledo Museum of Art's Glass Pavilion, the New Museum of Contemporary Art in New York and the Louvre-Lens in France.
But she had never designed a train before.
"I think the biggest difference with standard architecture is that the train is able to travel a variety of locations," Sejima said when Seibu unveiled the plans. "The limited express travels in a variety of different sceneries, from the mountains of Chichibu, to the middle of Tokyo, and I thought it would be good if the train could gently coexist with this variety of scenery."
Since commuters will be riding the train, she wanted to make it a relaxing, comfortable place like a living room, "so that they think to themselves 'I look forward to riding that train again'."
Like Sejima's buildings, the design is a minimalist one.
The Asahi Shimbun reported that the trains had been designed with a concept "that softly blends in" with landscapes, and would be round-shaped and have a simple coating without any patterns.
Seibu company aimed to express "gentleness and softness" rather than "sharpness or coolness" with its trains and wanted to create a relaxing space, the Sankei newspaper added.
Seibu plans to widen the seat space and make the windows bigger, in anticipation of as more tourists, the Nikkei business newspaper reported. The company hasn't announced how much the new trains, to be manufactured by Hitachi, would cost, but Nikkei estimates the company will invest about $90 million in the new trains.
Seibu wants 56 cars, made of aluminum, for seven trains that will start operating in 2018.
The company has previously worked with another famous designer - Kengo Kuma, architect of a new national stadium being built for the 2020 Tokyo Olympics.
His dining cars, dubbed "52 seats of happiness," is due to debut on Sunday. The four coaches will feature Japanese washi paper and wood on the ceilings and will have seasonal scenes on their outsides, the Japan Times reported.
© 2016 The Washington Post
(This story has not been edited by NDTV staff and is auto-generated from a syndicated feed.)