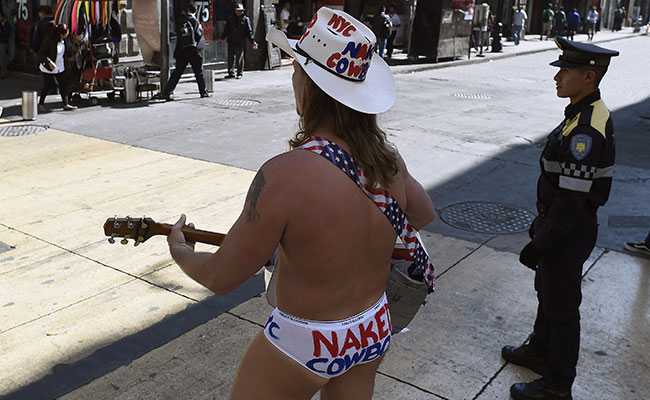 Mexico:
The Naked Cowboy, whose white underpants, bronzed chest and cowboy hat are fixtures in New York's Times Square, took his act to Mexico City this week, bravely singing of his love for Donald Trump and his border wall.
Robert John Burck is famous for busking on Broadway sporting just a guitar and tighty-whities emblazoned with the words "Naked Cowboy" in red, white and blue, even in the dead of winter.
But this January he is braving a different kind of chill in sunny Mexico City, by singing the American president's praises right in the heart of the capital.
"Trump's gonna build a wall, that wall's gonna protect us all. Sounds like a good idea to me," he belted out during a recent outing.
"I'm a Trumpster through and through."
It's a risky act to pull in this era of strained relations between the United States and Mexico, where Trump's wall proposal and characterisations of Mexican immigrants as "criminals" and "rapists" have not gone down well.
But Burck has been met mainly with bemusement as he strolls amid Mexico City's historic colonial buildings, strumming his guitar and pausing between numbers to invite tittering onlookers to smack him on the rear as they pose for pictures.
The Naked Cowboy, 47, says he has been warmly welcomed, Trumpism and all.
"Muchos fotos, mucho amor, mucho, you know, todo," he said in broken Spanish ("Lots of pictures, lots of love, lots of, you know, everything").
But the political junkie, who has in the past announced he was running for New York mayor and even US president, didn't budge from his defense of the wall.
"There's no reason for people from Mexico to go to America illegally and then take the resources from America and bring them back to Mexico," he said.
"Every country has a wall. Have you heard of the great wall of China?"
Mexican wife
Ironically, what brought Burck to Mexico is a family vacation with his Mexican wife, who was herself an undocumented immigrant when he met her in New York five years ago.
She now has permanent residency, which he helped her gain, and sometimes joins his act as the Naked Cowgirl.
The man who describes himself as "the most celebrated entertainer of all time" said he sees no contradiction.
"She went over illegally, she was illegal for many years," he said.
"But she got a job when she got there, she went to college, she had a tax ID number, she married a gringo, and she is all good," he added, flexing his bulging biceps at the word "gringo" (American).
Looking on in amusement, passerby Renata Carmona said she was surprised by Burck's act, but not his apparent inconsistencies.
"The world is contradictory, we all are like that," said Carmona, 42.
"We all have two sides. Even the moon has a dark side to hide."