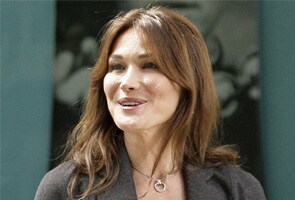 Paris:
France has two first ladies for the moment. Carla Bruni, wife of outgoing President Nicolas Sarkozy, and Valerie Trierweiler, the companion of the newly elected President Francois Hollande. They both have their 'firsts'. Carla Bruni was the first one to marry a President while he was in office and to have a child at the Elysee palace. Valerie Trierweiler is the first one to be a French President's unwed companion.
Both are working women or almost. Mrs Carla bruni who is a former model-turned-singer, released one album as first lady but it flopped. Mrs Trierweiler has been a journalist for more than 2 decades. She had to give up political reporting once her relationship with Mr Hollande was made public to avoid conflict of interest. She sticks to covering art and culture now. She wants to continue earning her own wages rather than being paid by the state.
Carla Bruni and Valerie Trierweiler both have children from their previous relationships. Mrs Bruni has a son from a partner and Ms Treirweiler, twice divorced, has 3 teenage children from her second marriage. In France, unwed partners are called "companions" and not "mistresses" and live in relationships are not frowned upon. Mr Hollande was the companion of Segolene Royal who ran for the post of President and lost to Mr Sarkozy. They lived together for 30 years and had four children. There have been rumours that Mr Hollande refused to give enough support to Ms Royal during her campaign because he was already seeing Ms Trierweiler. That Mr Hollande and Ms Trierweiler are not married is a complete non-issue in France. This kind of a situation could have created a scandal in countries like US, UK or even in India. Not so in France.
The French first lady in waiting is said to have encouraged her husband to lose 20 kgs during the campaign. She typed out his speeches when needed during the election campaign. She says Mr Hollande doesn't shut the cupboard doors at home but he does do the shopping of groceries and cooking. She always walked behind Mr Hollande, never trying to hog the limelight.
Valerie Trierweiler, however, is yet to become a household name in France. The standard French response, if you ask them what they think about the first lady, is "We don't care about first ladies. They have no official role and no power." In fact they prefer it if the President's companion keeps a low profile. The French also dislike any overt display of a politician's private life in public.
Carla bruni nevertheless did raise the glamour quotient of Mr Sarkozy's state visits. The day they met the Queen of England, tabloids all over London had printed her nude photo from her modelling days. French first ladies seem to be making it a habit to create protocol confusion. Not being married may not bother people in France but it's impossible to meet the Queen as the President's girlfriend.
Nicolas Sarkozy had to leave Carla Bruni behind on his first visit to India because the Indian Ministry for External Affairs was in a fix. They did come back together of course, and only once they were married. It remains to be seen whether Mr Hollande will marry Ms Trierweiler for the sake of protocol and to be able to travel with her and not be alone on foreign trips.