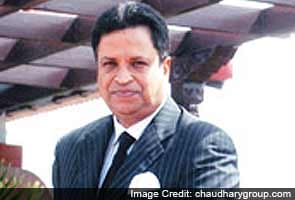 Kathmandu:
Run by Maoist revolutionaries and plagued by poverty, Nepal is not the most obvious place to make big bucks.
But Binod Chaudhary, the country's first billionaire, sees no reason why his breakthrough shouldn't inspire other success stories.
"I am proof to the younger generation that you can accomplish things here," Chaudhary told AFP as he surveyed a smog-choked Kathmandu from his penthouse, which is decorated with classical Nepalese art and wood carvings.
"Nepal has the potential to make a quantum leap within a very short period of time," said the entrepreneur, who took over the family's import-export business and turned it into a global conglomerate.
The 57-year-old industrialist heads the family-run Chaudhary Group. It has diverse holdings spread across several countries including Singapore-based Cinnovation, which has interests in hospitality, real estate, finance and cement.
He is best known for his flagship brand Wai Wai noodles, which he launched in Nepal in the mid-1980s. Manufacturing expanded to India in 2005 and they are now sold in 30 Asian countries.
Earlier this month, the married father of three sons became the first Nepalese to be named in Forbes magazine's billionaire rich list - a recognition he likened to winning a Nobel.
"Today's economy is one of ideas, and there's no monopoly on ideas in rich countries, they can come from Nepal too," said the fan of Indian spiritual guru Sri Sri Ravi Shankar, who he cites as a role model.
According to the Asian Development Bank, the average annual income in Nepal is less than $600 and surveys regularly place it in the top 10 per cent of the world's poorest countries.
It is only five years since the Maoists toppled Nepal's monarchy, reviled for their ostentatious wealth and lifestyle. Although a caretaker government is now steering Nepal towards elections, the former rebels still largely call the shots.
While its influential giant neighbours China and India have made huge strides in the last two decades, Nepal has seen its development stall in the same period.
A 10-year civil war hardly helped but Chaudhary says Nepal's location has also fostered a wariness about wealth creation.
Nepal should be thriving as a result of its neighbours' rapid development, but the Nepalese people need to shed the "unfounded idea that if we become too prosperous someone is going to come and grab it".
Chaudhary's wealth has ballooned largely because of foreign investments and operations - despite a Nepalese law that prevents its citizens investing abroad.
The former member of parliament internationalised in part through his sons, who moved initially to Singapore and the US, and now Dubai.
"He used loopholes," said Prateek Pradhan, editor of a Nepalese economic daily. "He became a billionaire in an economically closed country - that's impressive."
Experts say this path to fortune is typical of entrepreneurs in developing countries.
"Going outside the country for capital and expansion is an efficient response to domestic challenges," said Tarun Khanna, Harvard Business School professor and director of the university's South Asia Institute.
Chaudhary's grandfather, Bhuramull, was a textile trader who migrated from Rajasthan in the 1930s to Kathmandu and soon began supplying goods to Nepal's ruling family.
His father launched export operations to the US and Europe, and imported goods from Japan and Korea.
Chaudhary junior never attended university and joined the family business at the age of 18.
The company expanded to Singapore in the early 1990s and continued growth during Nepal's 1996-2006 civil war between Maoist rebels and government forces.
After a period as a member of parliament, Chaudhary says he is now looking for "a new role to serve and develop Nepal", a country of 27 million.
He believes the private sector - not just government and foreign donors - has a vital part to play if the country is going to lift itself out of poverty.
Eyeing a potential return to politics, he wants to make sure it's the right move for him and the country.
"I love living in Nepal," he said.